With an objective to call out for the injustice taking place in the film industry, this helpless citizen of India has been getting abused in the cruelest way that no one could have imagined!
The feud between actress Kangana Ranaut and the ruling party Shiv Sena saw its peak when 40 workers, 5 BMC employees, 3 senior officers, and police personnel turned up the bulldozer on Wednesday morning to demolish the office of Manikarnika Films Private Limited, Ranaut's production house. And for what? According to the Brihanmumbai Municipal Corporation (BMC), there were 14 'unauthorized' constructions at her office when an official inspected her office.
But how right it was to break down almost 75 per cent of the 'unauthorized' construction of her office? Here take a look at 5 reasons why BMC shouldn't have demolished her office-
1. Demolition Activities Suspended Till Sept 30
The demolition started on Wednesday around 10.30 am when Ranaut was not in the city. However, it had to stop when the her lawyer filed a plea in the Bombay High Court seeking interim relief from the demolition process. Following this, the HC handed out the verdict that the action by BMC was a clear cut violation of the earlier order that ordered a stay on all demolition activities till September 30. And, the BMC didn't even bother to take prior permission from the court as was required.
The court had also said that in case Municipal corporations in some extraordinary situations or for compelling reasons are required to take any such action, they must first get the necessary orders from the court, which evidently, the BMC did not follow. In addition to this, it also said that the restriction on carrying out any demolition, eviction, or holding auction of attached properties was later extended by the High Court till September 30, 2020, by an order passed on August 31, 2020. Then, is it appropriate to go against the law?
2. 50 people at one place amid pandemic?
As mentioned above, more than 50 people were involved in the demolition amid the coronavirus pandemic. So, the demolition, which involved at least 50 people present at one spot, came at a time when Mumbai is struggling to contain the spread of COVID-19. Mumbai, India's hotspot, currently has more than 28,000 active cases. Even on Friday, Mumbai recorded its highest single-day spike of 2,227 cases. How BMC could not follow its guidelines amid this pandemic?
3. Lauding the timing behind demolition!
If we at all assume that Kangana's office was illegally constructed, why must have BMC chosen to break down the site now, when the controversy between the actress and Sena was already feeling? It is probably because the action by BMC officials was not just about demolishing but it felt like it helps up some ulterior motives. BMC's action against Ranaut certainly comes after she had locked horns with the Maha government.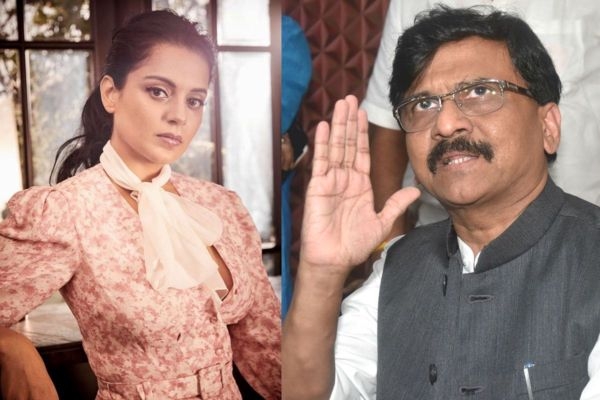 "Sanjay Raut Shiv Sena leader has given me an open threat and asked me not to come back to Mumbai after Aazadi graffitis in Mumbai streets and now open threats, why Mumbai is feeling like Pakistan occupied Kashmir?" Kangana had tweeted. Responding to this, Shiv Sena leader Sanjay Raut who already has been a part of infinite controversies to date, called her a 'haramkhor ladki'. It is clear that the 33-year-old actress has openly said that the Maharashtra government was targeting over her comments on Mumbai and her ongoing war of words with the Shiv Sena.
4. 24-hour notice- What about BMC's dissatisfaction?
Yes, it is true that Kangana Ranaut is certainly not the only Bollywood celeb whose property was demolished but what this demolition of her office makes different from the others is the time period. Many powerful names like Shah Rukh Khan, Anil Kapoor, and Kapil Sharma have earlier faced similar 'demolition' activities by the civic body but they were given a longer period of time to act upon, at least more than 12 hours.
True, when the BMC handed out notice and gave 24-hour time reply to her, she did reply but the BMC was not satisfied with her reply. So, BMC decided to tear down her office?
For example, in 2017, BMC demolished Arjun Kapoor's makeshift gym on the terrace of his Juhu building. The actor was served with legal notice in March and the construction was finally demolished in December. Shah Rukh Khan was asked to remove the concrete ramp built on the road adjacent to Mannat in 2015. Later in 2017 the BMC officials also demolished the illegal canteen at his Red Chillies office. Why this hurry BMC?
The Bombay HC during its verdict on Ranaut's office demolition said, "We cannot help but mention here that if the MCGM (Municipal Corporation of Greater Mumbai) would act with similar swiftness qua the numerous unauthorized constructions, the City would be a completely different place to live in."
5. Creating fear in the minds of people-
This impatience by the Maharashtra government and the demolition scene tells a lot about certain things when she just questioned the happenings taking place around her. Due to this, she is facing the wrath of the Shiv Sena-led Maharashtra government for voicing her opinion against political leaders and the governance of Mumbai.
On the other hand, Shiv Sena has been trying to project her criticism of the government as a criticism of the Maratha pride. This move by the BMC will create a lot of fear in the minds of the people who will put forth their personal opinions on any platform. And if these opinions will go against those who are in power, it can prove fatal for them.