Dubai, Sept 25: Legendary cricketer Sunil Gavaskar caught himself in a controversy for making an unnecessary comment on Virat Kohli and his actor wife Anushka Sharma after the Indian captain's displayed a not-so-good performance in the IPL. Kohli, one of the best fielders in the Indian team dropped two catches and also failed with the bat managing just a run-off five balls against Kings XI Punjab here on Thursday night.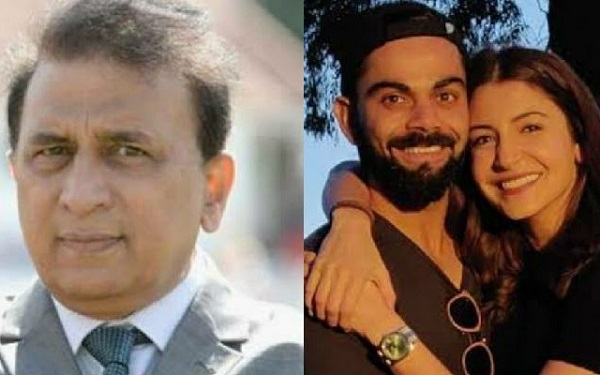 Sitting in the commentary box, Sunil Gavaskar came up with a comment involving Kohli's actor wife Anushka. However, many netizens stated the comment as unjust and shocking was not in a good taste and did not go down well with many of the netizens. Gavaskar said, "Ab joh Lockdown tha to sirf Anushka ki bowling ki practice ki unhone, wo video dekhi hai (reference to a viral video), usse to kuch nahi hona hai (During the recent lockdown he only practised to Anushka's bowling, I saw a video. But that is not going to be enough)."
Gavaskar was referring to a video clip that went viral after it was posted on a Kohli fan page. In the video, Kohli can be seen bowling to Anushka before taking to the stumps. The video then shows Anushka bowling to him.
This remark also did not go down well with Anushka Sharma. Responding to this, Anushka has come up with a reply for the former cricketer and shared it on Instagram's story.
"That, Mr Gavaskar, your message is distasteful is a fact but I would love for you to explain why you thought of making such a sweeping statement on a wife accusing her for her husband's game?
"I am sure over the years you have respected the private lives of every cricketer while commentating on the game. Don't you think you should have equal amount of respect for me and us? I am sure you can have many other words and sentences in your mind to use to comment on my husband's performance from last night or are your words only relevant if you use my name in the process?
"It's 2020 and things still don't change for me. When will I stop getting dragged into cricket and stop being used to pass sweeping statements? Respected Mr Gavaskar, you are a legend whose names stands tall in this gentleman's game. Just wanted to tell you what I felt when I heard you say this," Anushka Sharma wrote in her Instagram story.
It is not the first time that the actress had faced trolls on social media. Time and again, she has been accused of Kohli's bad performance on the field. She has also expressed her displeasure regarding this matter.
In the meantime, Kohli came forward and owned up to his mistakes, admitting that the two catches he dropped of Rahul helped the Kings XI score 30-40 more runs. "I have to stand in front and take the brunt of it, not the best day in the office, couple of important chances of KL when he was set and that cost us 35-40 runs at a later stage. Maybe if we restricted them to 180 we wouldn't have been under pressure from ball one of the chase. We know exactly where we went wrong and I have to put my hand up and say a couple of important chances went down," said the 31-year-old.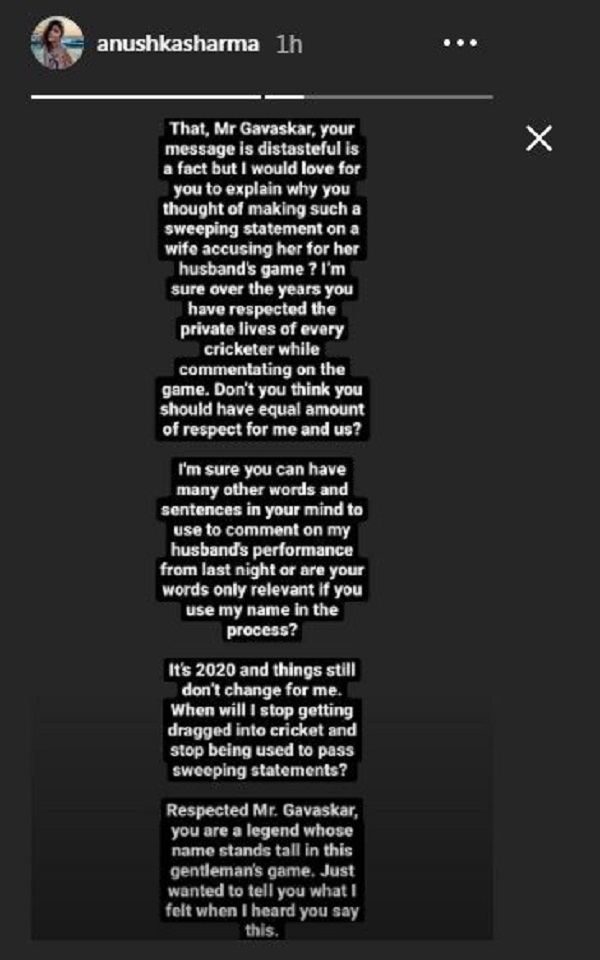 Also Read: