- Shivani Shinde
"They fight for you. Then they fight with each other. An unstoppable Chaos. And it's not about YOU anymore. It's about THEM. Maybe it always was.."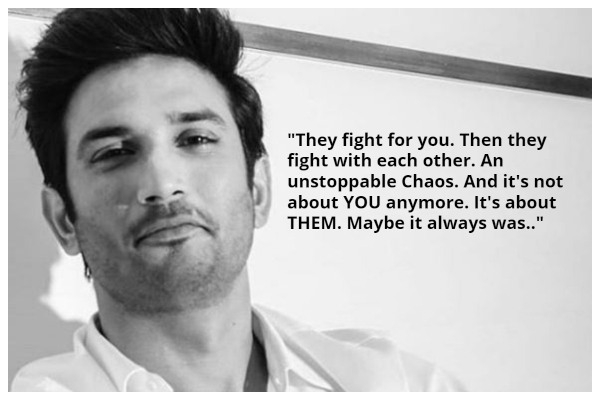 Its been 3 months to the sudden demise of actor Sushant Singh Rajput, which shook the whole country and left his fans shattered. During the initial investigation, the police revealed that SSR was suffering from depression which seemed to be the root cause for his tragic death. However, many of his fans never believed this theory and started seeking clarity and closure in SSR's case. Even a month after a Bollywood actor's unexpected demise, they can't keep themself from speculating and dissecting the event? After seeing Mumbai Police's casual attitude towards the investigation into the case his many fans and celebrities came forward and started to seek justice for him on social media and apparently CBI came into the picture followed by NCB, given the drugs connection his death case. Apart from the celebs many prominent and reputed journalists took part in the death mystery business strategy.
In these three months, the popular discourse on possible contributory factors shifted from mental health to murder, to nepotism, to drugs probe, and what not. But all in this the public neglected the main aspect of the case? They have forgotten the main reason why they started the trend. Since, the beginning of this case, the media carried out different investigation rounds on national television. Mamy media houses conducted many sting operations in the Sushant Singh Rajput's case. It seems like the media got carried away with the case searching the new angles. The current scenario of debate around the death of the actor has shifted to other people who were once fighting to get justice for the late actor but now the debates mainly focus on which actor is associated with drugs? A new twist was also given over the drug probe. Why the male celebs are not summoned by NCB?
The entire matter which was started with #justiceforSushant now became a matter where every single person is taking the advantage of the situation to become a sensation. The Bollywood celebs who earlier supported the "#justiceforSushant" trend has now derailed their selves from this case and it has becomes all about their agendas and their vendetta against each other. The actress who is earlier supporting SSR now once denied working with him. The media is just now trying to gain more TRP for their channel. They are nothing to do with Sushant anymore. They have left Sushant behind, TRP has become the focus now.
Before Sushant, Disha Salian, her former manager had also committed suicide but the media didn't show anything. However, after Sushant's death, the same media covered her news and even tried to find the connection with SSR's case. This is a clear sign of pure business and gaining TRPs. This TRP game began after Bollywood's prominent personality gave an exclusive interview to a famous new channel in which she revealed that Sushant Singh Rajput was 'killed' as he was aware of "some dirty secrets" about Bollywood. She also hinted at political connections behind the Sushant Rajput case. She has also claimed that a very powerful lobby is trying to prevent a detailed investigation into the case.
To gain more TRP, a reputed news channel also invited Rhea, who is a prime suspect of the Sushant Singh Rajput's case for an interview round with a senior journalist. This girl who is not answering CBI's question correctly, neither accepting nor revealing the truth and facts will tell the story in the interview!
SSR's case has opened a can of worms with several theories surrounding his death gaining traction across social media platforms, suspecting foul play into the death of the actor. It is said that his death is still being used to cover up so many actual problems plaguing our country, yet there is nothing concrete happening around it and everything is just about individuals and politics.
After reading the article if a certain individual comes into your mind then it is genuine because they did it. It seems like this case will also lose public attention over time and will be lost amongst a thousand other cases that are still pending before the courts. With that, we learn why people say "Time is a healer " but now it has been like "Log wakt ke saath sab bhool jate hai."
We don't know whether Sushant was killed or not? or if Sushant and Rhea were just a tip on the iceberg? But, one thing is for sure that the public has just forgotten the Main Motto #JusticeforSSR. He has been forgotten in all the chaos. They forgot about Sushant in process of "apparently" giving justice to Sushant! The focus has been shifted from Sushant to other things and people should open their eyes and realise what this circus is about.