Paris, Sept 30 : France has announced on Tuesday that it would call for talks with the Minsk Group to mediate the Armenia - Azerbaijan clashes and try to resolve the issue peacefully. The announcement came out immediately after tensions escalated between the two South Caucasus nations, causing human life loss on both sides.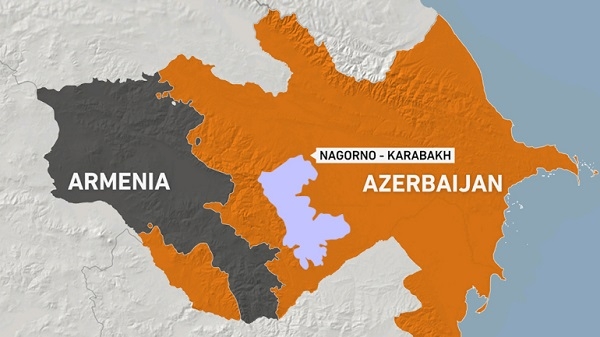 The Armenia-Azerbaijan Upper-Karabakh conflict was catalyzed with the overt territorial claims of Armenian over Azerbaijan's historical lands. The conflict between the two nations about the Upper Karabakh region is an old one, dating back to the 1980's. The historic conflict was intensified after relentless aggression erupted in the region on Sunday, whereby dozens have been reported killed and hundred injured.
France has took a stand in this issue by issuing an official statement that, "We will trigger in the coming days a co-ordination of the Minsk Group to clear up what happened, who is responsible and find a way out." Russia, France and USA are the chief countries in the OSCE Minsk Group which was formed in 1992, after the disintegration of the USSR and aimed at encouraging peaceful and negotiated resolution to the conflict between Azerbaijan and Armenia regarding the Nagorno - Karabakh region.
Prior to the disintegration of the Soviet Union, the Nagorno - Karabakh region was the part of Azerbaijan which later became an Autonomous region. The demographic composition of the region is Armenian and hence in 1988 the region announced its withdrawal from the Azerbaijan Soviet Socialist Republic. The Nagorno - Karabakh region is in conflict since then between the two nations and the Minsk Group is trying to resolve the issue since 1992.
Currently, both the countries have announced emergencies, with imposition of Martial Law and mobilization as preparedness for war. The Armenian Prime Minister Nikol Pashiyan has openly accused Turkey to have tried to manage the whole process of escalating tensions among the two nations without even trying to hide it. Pashiyan has stated that, "If nagorna - Karabakh won't fight, all Armenians in Nagorno - Karabakh will be killed, without any exaggeration."
French Prime Minister Emmanuel Macro's statement was followed after this and became the first among the Minsk Group chief nations to step forward in order to resolve the issue of aggression in the region observed on Sept 27.