New Delhi, January 13: The first consignment of the most awaited 'Covishield' vaccines has finally reached 13 cities across the country as the nation is preparing for the vaccine rollout which is scheduled to begin on January 16.
Over 56 lakh of the total 1.1 crores, Covishield was delivered to as many as 13 cities across India amid tight security. The 13 cities including Delhi, Chennai, Kolkata, Guwahati, Shillong, Ahmedabad, Hyderabad, Vijayawada, Bhubaneswar, Patna, Bengaluru, Lucknow, and Chandigarh. The first 100 million doses of the vaccine have been provided to the government at the cost of Rs 200 per dose.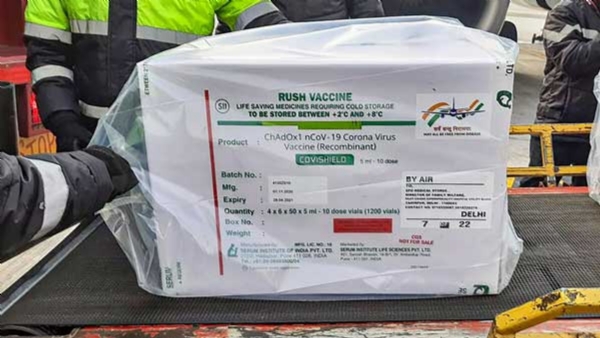 Karnataka received 7.95 lakh Covishield vaccines while Tamil Nadu received around five lakh doses of Covishield vaccine. In Gujarat, Deputy Chief Minister Nitinbhai Patel performed the coconut breaking ritual as the first consignment of 2.76 lakh doses arrived. The state has selected 287 sites for the vaccination drive which begins on January 16.
The exercise of dispatching vaccines will continue till Wednesday. Apart from SII Bharat Biotech will also start dispatching Covaxin from the Hyderabad airport on Wednesday morning. It'll initially cover around 11 states, including Delhi, Bengaluru, Lucknow, Chennai, and Jaipur.
The government has said that 30 crore people - starting with health workers and frontline workers like the police, civil defense personnel, and sanitation workers - will be administered the vaccine in the first phase. India has approved two Covid-19 vaccines -- Covishield and Covaxin -- for restricted emergency use in the country against the virus.
India has reported 15,968 new Covid-19 cases, 17,817 discharges, and 202 deaths in the last 24 hours.