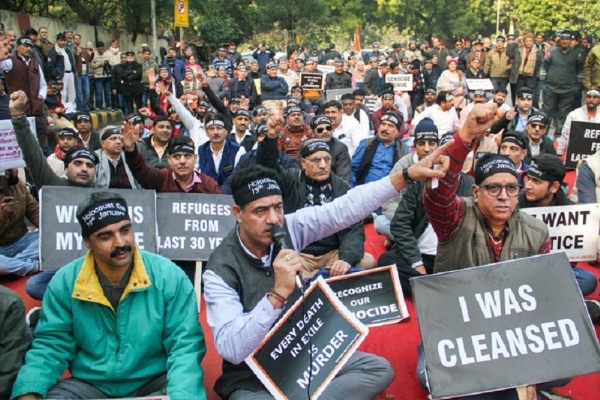 Thirty one years ago, on this day of January 19, 1990 the Kashmiri Pandits spread all over the world, observe the Kashmir Exodus Day in remembrance of those thousands of their kith and kin who were forced to leave their homes and hearths to save their lives or else face the death. Nearly four lakh Kashmiri Pandits were rendered homeless in that dark, cold night.

According to Bansi Pandit, the author of this tragic story "Hindus of Kashmir – A Genocide Forgotten", on this fateful day (cold, dark night of January 19, 1990), the entire community of Kashmiri Hindus (350,000 i.e. 98% of their population in the Valley in 1990) were kicked out of their homes by Islamic terrorists in an effort to Islamize the Valley.

The night witnessed macabre happenings, the like of which had not been witnessed by Kashmiri Pandits after the Afghan rule (1752-1819). Those that experienced the fear of that night are unlikely to forget it in their lifetime. For future generations, it will be a constant reminder of the brutality of Islamic radicals, who had chosen the timing very carefully.

In the preceding months, the state government had collapsed, law and order were non-existent. The police had deserted their posts, and the Pandits were left to themselves with their survival hanging in the balance. Eleven hundred Kashmiri Pandits had already been slaughtered by the terrorists. Scores of dead bodies were seen floating in the river Jhelum. Govt. of India looked the other way, didn't care, or should we say New Delhi was too far away, Bansi writes.

To make Kashmir an Islamic republic, impose Islamic Law Sharia, and merge it with Pakistan, Islamists, and Kashmiri Muslims gave the Pandits three options on January 19, 1990:
Ralive – Convert to Islam, Tsaalive – flee the Valley, and Ya Galive – or face death.

These slogans, broadcast from the loudspeakers of every mosque, numbering roughly 1100, exhorted the hysterical mobs to embark on Jehad. Tens of thousands of Kashmiri Muslims poured into the streets of the Valley, shouting 'death to India' and death to Kafirs.

Thus, took place the 20th-century exodus of Pandits on January 19, 1990, when the entire Pandit community left the Valley for good, creating one of the greatest refugee migrations in recent Indian history. January 19 is Kashmiri Pandit Exodus Day, a somber reminder to the world of our tragic story.

Thirty-one years later, the Kashmiri Pandit community is still a people without a homeland, and yet the world continues to ignore their plight. Nevertheless, our hope remains that our safe and secure rehabilitation in the Valley will one day return, as we attempt to preserve our community's socio-religious identity in exile, the author expresses hopes.