On Jan 04, 1990, a local Urdu newspaper Aftab, published a press release issued by Hizbul Mujahedeen, asking all Pandits to leave the Kashmir Valley immediately. Al Safa, another local daily repeated the warning. These warnings were followed by AK47/56 Kalashnikov wielding masked Jihadis carrying out military type marches openly. Reports of killing of Kashmiri Pandits continued to pour in. Bomb explosions and sporadic firing by Jehadi militants became a daily occurrence. Explosive and inflammatory speeches being broadcast from the public address systems of the mosques became frequent. Thousands of audio cassettes, carrying similar propaganda, were played at numerous places in the Valley,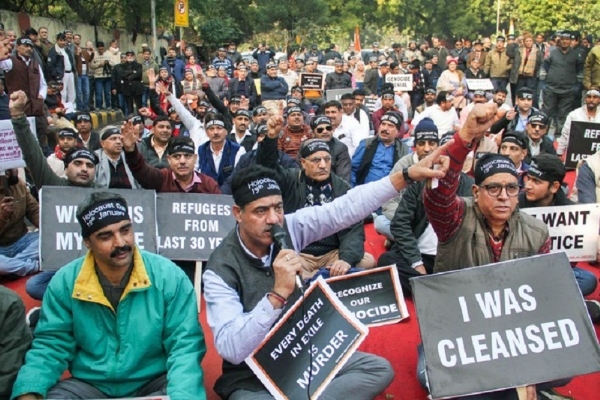 On 19 January 1990; Mosques in Kashmir chanted slogans on their loudspeakers asking Kashmiri Pandits to vacate the Valley and leave behind their women. Jehadis backed by Pakistan chanted Azaadi slogans on the streets. The system collapsed. The chaos also led to targeted assassination of prominent Kashmiri Pandits from political leaders like Tika Lal Taploo to judge Neelkanth Ganjoo and from Doordarshan's Lassa Kaul to scholar writer Sarwanand Kaul Premi. Jammu Kashmir Liberation Front (JKLF) claimed responsibility for killings. Terrorists Yasin Malik and Bitta Karate among others were seen as the main villains. JKLF even killed four unarmed Indian Air Force personnel and abducted daughter of then Home Minister of India Mufti Mohammad Saeed; terror crimes for which no JKLF terrorist has been convicted as yet. More than 400,000 Kashmiri Hindus were forced into an exodus since 1990.

That scenario is being replicated now in 2021. Jehadis have killed five people in Jammu and Kashmir from 05-07 October, 2021 in separate incidences, leaving the entire region in a state of shock. Of these, four belong to the minority communities including three Hindus and one Sikh. Fear psychosis was triggered among over 3,000 Kashmiri Hindu employees living in seven different transit camps in the Valley due to the selective and systematic killings and warning of Jehadi Terrorists. Non-Muslims are being selectively killed which is reminiscent of the dark period of the valley about 33 years ago. Pakistan backed Jehadi Terrorists in Jammu and Kashmir does not want any person belonging to non Muslim community to stay in Kashmir.

On October 05, Makhan Lal Bindroo, who owned a medical store in Srinagar, was killed. An hour after Bindroo's murder, Jehadis killed Virendra Paswan, a Bihari Golgappa seller residing in Awantipora. Same day, Jehadis killed Mohammed Shafi Lone in Bandipora as they suspected that this person was a police Informer and was giving jobs to Hindus. On October 07, Jehadis shot dead a Sikh Principal Satinder Kaur and a Hindu Teacher Deepak Chand in a school in Srinagar. As per reports, pistol wielding men came into the school in the morning and asked for the identity cards of the teachers and later fired at two teachers, one each from the minority Sikh and Hindu community. The teachers present were segregated on basis of their religions and Muslim teachers were allowed to go. The Hindu and Sikh teacher were dragged outside and shot at point blank range which is typical in targeted killings. Jehdis fled after the killing.

Ever since the campaign to resettle the Kashmiri Pandits has started, Hindus are being killed selectively. Jehadis are trying to give them the message that whoever comes here to live, work, teach their children in school, will be killed. This pattern is similar to that of the Taliban in Afghanistan, where in the name of Islamic Fundamentalism; all those who do not believe in radical jihad and Sharia are being killed. Responsibility of these killings has been accepted by a new organization called The Resistance Front, an off shoot of IS (Khorasan) located in Pakistan. The Resistance Front is working here under umbrage of Pakistani terrorist organization, Lashkar e Taiba. The Resistance Front has profusely said on social media that it had targeted these people for encouraging their kids to salute Indian Flag, which it has termed as Flag of the Occupier, on 15th August during Independence Day Celebrations. This year, for the first time in decades, Schools in Kashmir were asked by the Indian Government to hoist Indian Tri-color.

Leaders of Kashmir and Central Opposition Leaders have not paid any attention to Hindu families of Kashmir whose loved ones were brutally killed by Jehadis. There were only isolated tweets by some leaders like Farukh and Omar Abdullah of NC and Begam Mehbooba Mufti of PDP on the Kashmir incident. But they did not condemn Jehadi attacks. Local Media did not highlight the killings neither National Media. Only a Group/Forum of Kashmiri Pandits has written to Lieutenant Governor Manoj Sinha regarding inaction of Police in spite of warnings by Intelligence Agencies for "Imminent attack on Kashmiri Hindus in near future". This letter has, purportedly been, neglected by the Administration. This Forum has requested the Government to take quick remedial action lest exodus of 1990 is re-enacted again.

These killings are the latest in a series of attacks largely targeting Hindu and Sikh civilians in Kashmir, once again raising alarm about the rise of a militancy that drove out Hindu minority groups from the region nearly three decades ago. Jehadis have struck at a time of high tensions that followed Government's decision to strip Kashmir of its semi autonomous status in 2019.

Jehadis have killed 27 civilians till date in 2021, seven of them, including three Muslims, in the past 10 days. Jehadis profess that astute move of Prime Minister Narendra Modi to change the status of region is aimed at altering the demography of India's only Muslim majority state by bringing in more people, especially Hindus, from other parts of the country. Government has put the blame on Pakistan, which controls a portion of Kashmir and claims the region in full, for orchestrating recent violence.

India insists that Kashmir Militancy is Pakistan sponsored Terrorism. Pakistan denies the charge and attributes it to Legitimate Freedom Struggle by people of Kashmir. Pakistan says that it only provides moral and diplomatic support to the Kashmiri People Struggle. Pakistan ISI Chief has been replaced on 08 October, 2021 and sent as Peshawar Corps Commander which is responsible for Kashmir. This is a sign of Army Chief, General Javed Bajawa tightening his grip on Administration to have next Army Chief of his choice when he retires next year. Knowing hatred of Lieutenant General Faiz Hameed for India, this is also a sign that, Kashmir will see more trouble in coming days. Knowing his dislike for Prime Minister Miyan Imran Khan, his position also seems to be in doldrums.

Hindus are being killed in Kashmir as IS (Khorasan) wants 'minorities' in rest of the country to feel 'unsafe', when a Hindu, a minority in Jammu & Kashmir, is killed. They want that in rest of the country 'other minorities' must be 'de-humanized'. Jehadis have been de-humanizing minorities in rest of India to make them rise against Hindu Government. Anyone who not only supports Hindu Government but even does not hate on them like Jehadis do, will be killed.

Hypocrisy of Indians, especially the Kashmiris, is visible when they fail to call out Jehadis as Islamic Terrorists. The victims are not just Kashmiri Hindus and Sikhs but even common Kashmiri Muslims who call themselves Indians. This hypocrisy is shielded behind a term called Kashmiriyat, which I feel is a misnomer, a word coined to show false sense of brotherhood to hide the Islamic Radical Ideology and Terror against Kashmiri Hindus and Sikhs in the Kashmir valley as well as in rest of India.

Kashmiriyat is only visible during funeral of Hindus and Sikhs for publicity stunts in media. Non-Muslims are a target today as they have always been, in the past. From Nadimarg to Wandahama and from Gool to Chattisinghpora, blood of the innocent Kashmiri Hindus and Sikhs has always been washed across the streets of this frozen Valley.

This string of killings has once again exposed old fault lines of Hindu Muslim divide. Many Kashmiri Muslims are urging people to not ignore the fact that there are three Muslims among the seven victims. Emotions are running high on social media. One of the biggest enemies of ethnically cleansed Kashmiri Pandits is a section of elites which has built careers on Kashmiri blood. They never stick their necks out on tough issues. They are conveniently quiet when India is under attack but quick to deflect criticism of Pakistan.

These recent incidents of targeting civilians are to create an atmosphere of fear and communal disharmony as well a conspiracy to target local ethos and values for defaming local Kashmiri Muslims. This is being done on instructions from agencies in Pakistan.

Defeat of America as an occupier in Afghanistan will inspire not only the Indigenous Armed Fighters in Jammu and Kashmir but also those vulnerable groups in India who, purportedly, are facing persecution as minorities. This is in spite of the fact that, Taliban Spokesperson has clarified that "We (Taliban) will not wage confrontation or proxy war with India on Kashmir issue. We consider Kashmir issue as a "bilateral matter" between India and Pakistan". In view of this, there seems very little chance of Pakistan getting any support from Taliban.

Therefore, to keep up morale of Jehadis operating in Kashmir and rest of India, ISI will fuel armed strikes, first in Kashmir and on eve of Dashera/Diwali in rest of India. Intelligence Reports/Sources, indicate what Maulavis in Madarasas across Kashmir are professing, "Afghan Taliban bleed the Americans in Afghanistan, Allah has sent down his angel to help the Afghan Taliban and other Mujahedeen. The foreign invasion is over; soon they will be in Indian occupied Kashmir, our struggle must be akin". That being so, the future looks grim.

The questions for which we must seek answers, therefore are; why this sudden spurt of communal killings by Jehadis in Kashmir; who is behind it, what is the purpose; will it subside or escalate; is it going to spread in rest of India; is it connected with Taliban; what will be effect of change in military hierarchy of Pakistan?.

Only time will answer these questions. The fact is, 2021 autumn in Naya Kashmir has brought 1990 winter chill for Hindus and Sikhs and one can only pray that it should not result in another exodus.