Bengaluru, October 13: After facing the major embracement, Karnataka Congress has expelled their state media coordinator MA Salim for 6 years after a video of him accusing state party president DK Shivakumar of bribery along with former MP VS Ugrappa went viral. Moreover, the Congress Committee has also issued a show-cause notice to party leader VS Ugrappa.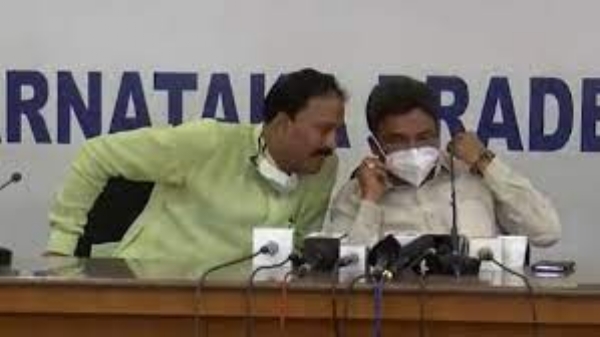 This came after a video conversation clip between former MP VS Ugrappa and the Karnataka Pradesh Congress Committee media coordinator MA Salim went viral on social media. In the video, Ugrappa and Saleem were reportedly heard talking about Shivakumar and "his people '' taking money. In the video, Salim discusses how Party president DK Shivakumar takes bribes and a close aid of his has made between 50-100 crores in the collection.
The duo also discussed how the Karnataka Congress president is of no use to the party. In their exchange, the two also referred to Shivakumar as a "drunkard".The two leaders can also be heard discussing Shivakumar's personality and comparing him with the Karnataka Leader of Opposition Siddaramaiah and other issues related to his habits and the way he talks.
Salim further said, "His house is near SM Krishna's house here in Bengaluru. This is a huge scandal and if you dig deeper, his (DK's) name will also crop up. You are not aware sir, but Mulgund (DK Shivakumar's aide) makes Rs 50-100 crore in collections. If he made a Rs 50-100 crores collection, imagine how much DK would have made."
After the criticism, the matter was sent to the Karnataka Congress disciplinary committee, which decided to expel Salim from the party.
Following the disciplinary action on the Congress leaders, Ugrappa gave a clarification saying, Salim was speaking of the BJP's statements on DK Shivakumar, and not his own personal opinion of the senior leader. Ugrappa stated that he had told Salim not to speak, but that he had done so anyhow.
.
.