New Delhi, October 20: It seems like the Hindu voice is being suppressed on social media as Twitter has shut down two Hindu orgnisation accounts that were throwing light on the atrocities inflicted upon the Hindu minority community by Muslim mobs in Bangladesh. As per the report the social media giant has reportedly deleted blue tick accounts of ISKCON Bangladesh and Bangladesh Hindu Unity Council.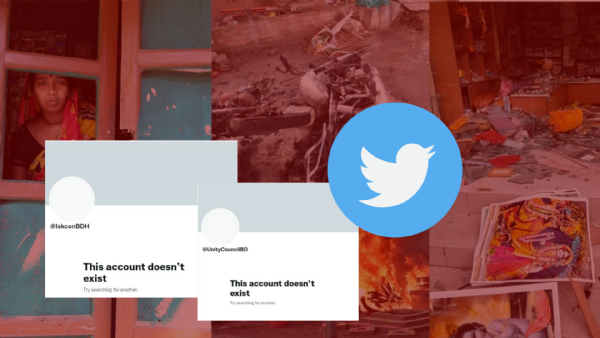 This incident came to light after the International Society for Krishna Consciousness (ISKCON) asked Twitter to issue a clarification on why the accounts of ISKCON Bangladesh and the Bangladesh Hindu Unity Council are unavailable.
The organisation's Communications Director, Yudhistir Govinda Das took social media and questioned whether the accounts were removed due to pressure from the Bangladesh government. He also alleged that Hindu voices are being stifled amid an emergency.
It is worth be noted, that other handles like Bangladesh Jatio Hindu Mahojate which have been reporting on the violence against Bangladeshi Hindus have also been deleted. These were the same accounts that were raising their voice against the brutality that happened with minority, Hindus, in Bangladesh
This has come after the Bangladesh Hindu Unity Council wrote letters to Indian Prime Minister Narendra Modi and US President seeking protection for the Hindu community in Bangladesh.
The scathing attack on the Hinuds have intensified in Bangladesh since last Wednesday after a Facebook rumor claiming 'insult to Quran' at a Durga Puja pandal went viral on social media.
Devotees at an ISKCON temple in Bangladesh's Noakhali area were violently attacked by a mob, during which one person lost his life, and several others suffered injuries. The temple property was also damaged. Moreover, ISKCON had recently stated the brutal attacks on the Hindu community in Bangladesh.
.
.