ISKCON devotees continue their protest in the city of Kolkata following the incident where an ISKCON temple in Noakhali, Bangladesh was vandalised and a devotee was killed by a mob on October 16. The community has called a worldwide protest at about 700 ISKCON temples across 150 nations today.
Earlier the week, the ISKCON International Society of Krishna Consciousness Toronto & Temples across the GTA had decided to hold a gathering at Old City Hall, 60 Queen street, West as part of the global protest against murderous attacks on Hindus in Bangladesh and many parts of India.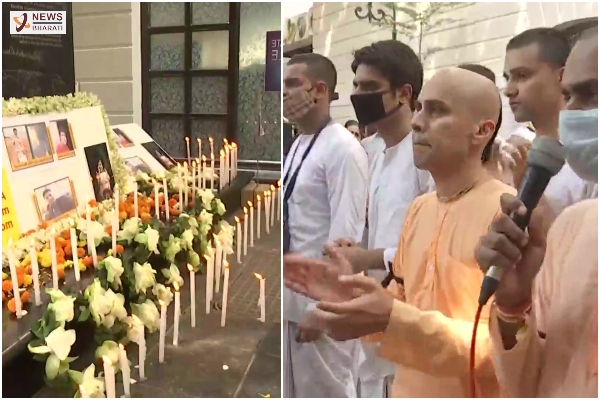 In an attempt to supress the Hindu voice, the Twitter had also deleted the user accounts of Bangladesh Hindu Unity Council and the ISKCON temple. This incident came to light after the International Society for Krishna Consciousness (ISKCON) asked Twitter to issue a clarification on why the accounts of ISKCON Bangladesh and the Bangladesh Hindu Unity Council are unavailable.
In clarity to the whole ISKCON temple incident, the Police on Thursday identified the man behind the Comilla incident that sparked nationwide communal violence for the past week. It is Iqbal Hossain, 35, son of Nur Ahmed Alam from Sujanagar area of the city who had kept the Holy Quran at Nanua Dighir Par puja mandap in Comilla on October 13.
Police identified Iqbal's involvement after analysing the video footage of surveillance cameras at the puja venue, Comilla Superintendent of Police (SP) Farooq Ahmed confirmed on Wednesday. But he could not be arrested as of Wednesday. Police say Iqbal Hossain is a drifter. It is still unknown whether he has any involvement with any political parties.
As reported by the Dhaka Tribune, SP Farooq Ahmed said everything would be disclosed during a briefing on Thursday. In the CCTV footage, it was seen that Iqbal took the Quran from a mosque and walked to the Puja venue. He was later seen walking away with the Hindu God Hanuman's club in his hand. Police filed four cases over the Comilla incident and arrested 41 people till now. Of them, four were Iqbal's associates.
.
.