When debates erupt about women getting commanding roles and Permanent Commission in the armed forces, the Indian Air Force had already opened doors in inducting women officers in the aviation sector.
The Indian Air Force was established on 8 October 1932 as an auxiliary air force of the British Empire which honored India's aviation service during World War II with the prefix Royal. After India gained independence from the United Kingdom in 1947, the name Royal Indian Air Force was kept and served in the name of Dominion of India. With the government's transition to a Republic in 1950, the prefix Royal was removed. Currently, it is the fourth largest Air Force in the world and has distinguished itself in various battles, relief operations, search and rescue missions, and rapid response evacuation. Having said that, IAF was way ahead of the other Armed Forces to set an example in granting opportunities to women officers.
According to a report tabled recently in the Parliament, the Indian Air Force has the highest share of women officers in India at 13.09% among all the three defense forces in the country. Minister of State for Defence Shripad Naik had informed that the strength of women officers serving the Indian Air Force (IAF) as of September 1, 2020, is 1,875 and of the 10 women officers are fighter pilots and 18 women officers are Navigators.
However, it is has been always in this society that if a change occurs, it is because the efforts were put forth in the past by people. Similarly, women had started showing up their presence in the aviation sector in civil quiet early wherein 1932 Urmila K Parikh became the first Indian woman to get a "pilot license".
Squadron Leader Minty Agarwal
Gradually, speaking of IAF, in March 1993, the first batch of seven women cadets were commissioned in IAF. In 1994, Flt Lt Harita Kaur Deol became the first woman to perform a solo flight in IAF. Later on, women pilots were allowed to be in combat roles in helicopter stream where two of its women pilots Flt Lt Alka Shukla and Flt Lt MP Shumathi were trained in flying twin-engine Mi-8, a utility and medium-size assault helicopter.
Further, women officers excelled themselves in Kargil, Siachen, and other dangerous operations and eventually, they started to achieve milestones. Flight Lieutenant Nivedita Choudhary, a Jat from Rajasthan, became the first woman from the Indian Air Force to summit Mount Everest in 2012. Eventually, the IAF opened new combat air force roles for women as fighter pilots adding to their role as helicopter pilots in the IAF as Bhawana Kanth became the first woman fighter pilot to qualify to undertake combat missions in May 2019.
In 2019, Wing Commander Shaliza Dhami became the very first female flight commander in the country as well as the first woman officer to be granted a permanent commission for a long tenure with the IAF. Meanwhile, Avani Chaturvedi, Mohana Singh Jitarwal, and Bhawana Kanth became the first 3 women fighter pilots. Due to this milestone, on 8 March 8, 2020, marking International Women's Day, all 3 fighter pilots were awarded Nari Shakti Puraskar. In the same year, Squadron Leader Minty Agarwal guided Wing Commander Abhinandan Varthaman during the February 27 airstrike. She was the ground-based flight controller and has been awarded the Yudh Seva Medal.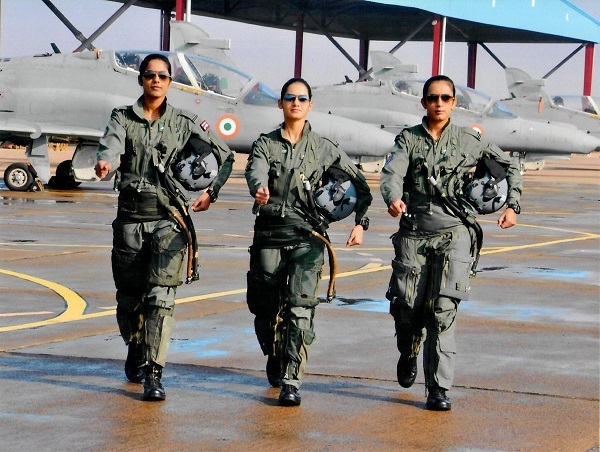 Bhawana Kanth,
Avani Chaturvedi,

and

Mohana Singh Jitarwal
Women officers have been allowed to do Short Service Commission since 1994, with the IAF recruiting their first female fighter pilot force in 2016. However, it was only in March 2019 that they were given the legal right to be considered for permanent commissions and asked to be considered equal to their male counterparts.
Recently, Rafale was inducted into the IAF. It was learned that a woman fighter pilot, Flt Lt Shivangi Singh will be soon flying the Rafale fighter jet and she became the first woman fighter pilot to get selected for the Indian Air Force's (IAF) Rafale squadron. Such changes are taking place in the IAF as it has opened all doors for women officers which range from Air Traffic Controllers to combat and transport pilots. Clearly, the IAF believes in gender equality & empowerment in the true sense of the word.
Flt Lt Shivangi Singh
became the first woman fighter pilot to get selected for the Rafale squadron
The Indian Air Force (IAF) Day is celebrated every year on October 8 and on Friday the IAF will proudly observe its 89th anniversary. On this Air Force Day, these women officers mentioned above along with many other women officers who have contributed to bringing glory for the nations act as role models for all the women who want to join the Indian Air Force and touch the skies.