In the self-centred world, it is so unbelievable how some people dedicate their lives to others and just do their thing without expecting any return or anything. Recognizing one such hero's efforts, President Ram Nath Kovind awarded the Padma Shri to an illiterate fruit vendor who devoted his entire life and earnings towards educating others.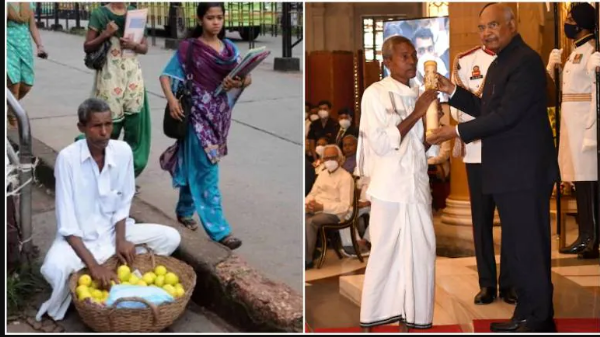 A 66-year-old fruit vendor, Harekala Hajabba, was awarded for constructing a primary school at his Harekala-Newpadpu village with his earnings. Hajabba, who hails from the village of Newpadapu near Mangalore, has no formal education yet has been successful in establishing a school for the children of his village. Hajabba has earned the title of Akshara Santa, or Letter Saint, due to his philanthropic work.
Hajabba started on this path after an incident 31 years ago left him "embarrassed" and acutely conscious of the importance of education. Many years ago, when one fine day, some tourists asked about the price of oranges in English, he couldn't understand a word. Hajabba felt humiliated and did not want anyone else to undergo the same sort of embarrassment.
Only after that did Harekala Hajabba realise that the Harekala-Newpadpu village in Mangaluru, Karnataka, required a formal education system.He made up his mind to start a school in his village by saving money from his daily earnings of Rs 150. "That day I vowed to make a school," he said.
After 2, 3 years of the incident, Hajabba saved enough money from his meager earnings to set one up by himself. With that saving, he set up a classroom for 28 students with the help of Twaaha Mosque, in the madrassa building of the mosque. The Dharmasthala Rural Development Project, a charitable trust promoted by Dr. D. Veerendra Heggade of the famed Dharmasthala Manjunatha temple in Karnataka, provided him with the first teacher for his school. More staff was later provided by the Mangalore Shadimahal organization, a business family's venture that owns buildings and event halls.
One year later, he bought a piece of land with his savings and a whole lot of help from donors and handed it over to the government to build a school for the children of Newpadpu and nearby villages. In 2001, a building was constructed, and classes 1-5 began to be taught at the school. In the next four years, Hajabba strived to get approval for higher classes, and, in 2005, Class 6 began. By 2010, Hajabba's school had its first batch of Class 10 students appearing for board exams. The school, which he started with 28 students, now has 175 students, with classes up to X.
Harekala Hajabba has won many awards over the years, which have recognised his efforts in ensuring that the children in his village are not deprived of their right to education. After winning several awards, Harekala Hajabba decided to open more schools in the Harekala-Newpadpu village in Karnataka's Mangalore.
His hard work, thoughtfulness, commitment towards society, devotion towards his land, and constancy will remain an inspiration to many.
.
.