We live in such a beautiful country like India, where sharing and helping needy people were thought of from childhood. In our country, Annadan, providing a free meal to hungry and poor people is considered as the greatest daan. Getting inspired by that, one man hailing from Chandigarh is serving free food to hundreds of patients and attendants at the Post-Graduate Institute of Medical Education and Research (PGIMER) in Chandigarh. It has been more than two decades since the 85-year-old man is feeding those in need. Jagdish Lal Ahuja, fondly known as' Langar Baba', one of the people who was conferred with the Padma Shri, the fourth highest civilian award in India, for his contributions to social work.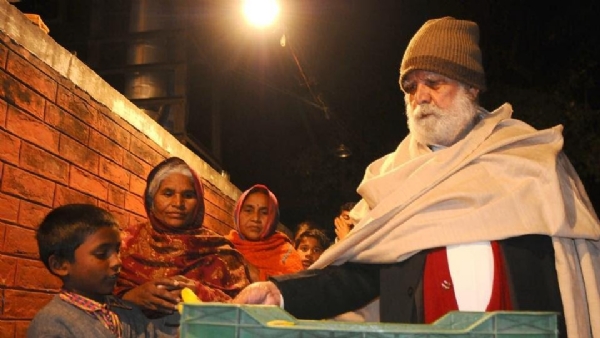 Ahuja has been suffering from cancer, and yet, he makes a daily trip to the hospital to feed those in need and let the illness not deter him from being a good Samaritan. The one who better knows what it means to go to bed without food has spent most of his earnings on serving the cause. He has even sold his properties for goodwill. He nearly feeds 2,500 people a day.
His story goes back to 1947. Following the partition of India, a 12-year-old Ahuja was born in Peshawar, Pakistan and migrated to India empty-handed. His family initially took refuge at Patiala camp but were later shifted to camps in Amritsar and Mansa railway station for weeks. Due to poverty, he started working at an early age to help his father. He used to walk three miles barefoot to buy namkeen dal for Rs. 1 and sell it for Rs. 1 and 2 aane at stations. He made two such rounds daily and earned Rs.2 and 2 aane. For years, Ahuja remained the only breadwinner of his family.
Despite poverty, he never got down to begging and would survive by doing odd jobs. From that time, he knew the meaning of hunger. From Mansa, he shifted to Patiala, where he would sell candies and bananas in buses. Later, he moved to Kansal on the outskirts of Chandigarh in 1956, where he started selling bananas at the new High Court's construction site. His is a journey in the new city that began with the purchase of a cart of oranges for $15 and has grown into a multi-billion-dollar enterprise. He bought his first property, a house in Sector 22, in 1965-66 for Rs.4,000.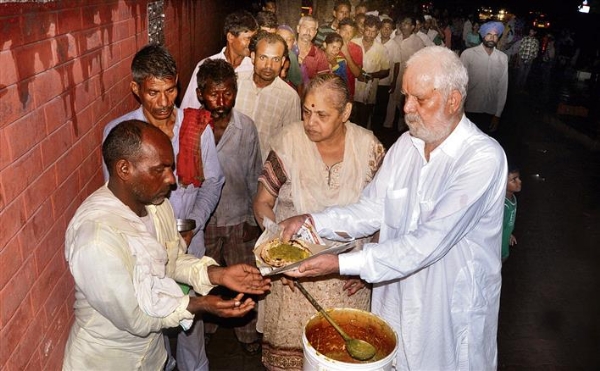 A thought-provoking hit him hard during his son's birthday celebrations. At that time, to celebrate his son's birthday, he organised a langar and cooked food for 150 children and served it in the market in Sector 26. This was a turning point for Ahuja as seeing the joy on the faces of the children, he got a remembrance of his childhood day. He realised that, on one hand, while his family enjoyed a feast, many on the other hand faced poverty and starvation. After this, he announced the daily langer.
He first started distributing bananas among people. Then he started organising langar at the Postgraduate Institute of Medical Education and Research, Chandigarh, in January 2000, when he was admitted there for treatment of cancer. On January 21, 2000, he organised a langar outside the PGI. The response was low on Day 1, but by the fifth day, people started coming. He later offered free meals at the Government Medical College and Hospital, Sector 32, Chandigarh as well. Since then, Baba's langar has become part of the routine at PGIMER.
Between 6 pm and 6.30 pm, people in long queues wait for the meals, which consist of dal, chapatti, rice, halwa, and banana. Besides, snacks that include biscuits are given to the cancer patients and toffees and balloons to the children. A similar langar is organised outside GMCH in the afternoon.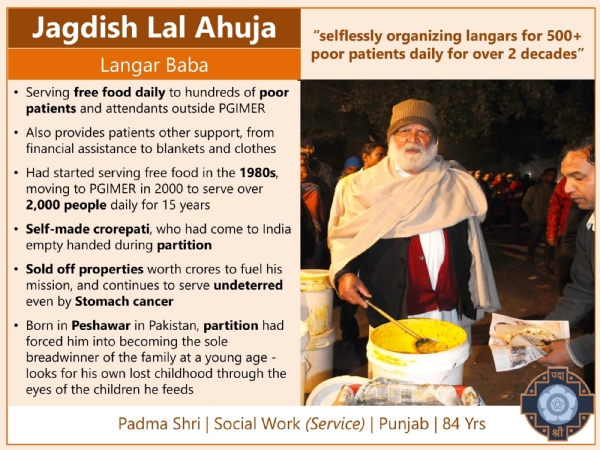 The langar, which started in 2000, is continued without a day's break. But it is said that good comes at a cost. In between those two decades, there came a time when he faced a shortage of money that made it difficult to run the langar. At that time, instead of asking for financial help from others to run the langar, the langar baba sold a chunk of his 36-acre farm, a 9-acre farm, a plot of one kanal in Panchkula, and a couple of showrooms to continue the food serving chain.
Talking about it, he said, "I had bought them for thousands or lakhs, but they went for crores." He gave and I gave further. " Ahuja says his inspiration comes from Nanak: "Takadi Nanak di tera-tera tole, you remember?" Jagdish has been truly set an example for others by doing enough for poor people despite financial hardship.
Hats off to an amazing being.
.
.