Sultanpur, Nov 17: The Indian Air Force held an astonishing aerial show of 30 fighter planes on the newly constructed Purvanchal Expressway in Sultanpur district of Uttar Pradesh. IAF aircraft - Mirage 2000, Jaguar and An-32 - made landings on the airstrip as part of the inauguration of the expressway. Besides, Rafale, Sukhoi 30, Kiran and MKII jets were also part of the aerial display.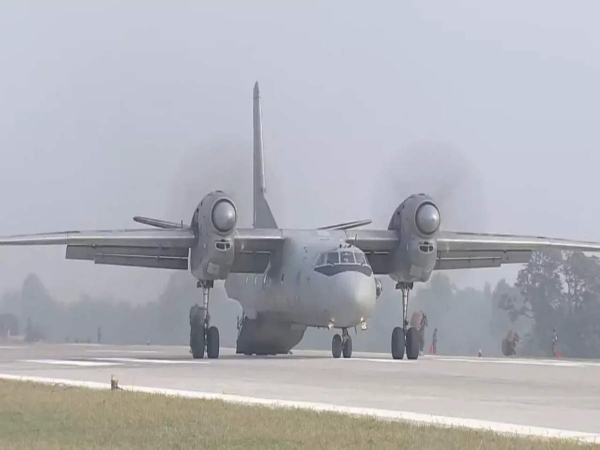 The event was attended by Prime Minister Narendra Modi and Defence Minister Rajnath Singh, who landed at the airstrip in a military transport carrier C-130 J Super Hercules. Apart from that, UP CM Yogi Adityanath, Governor Anandiben Patel and other leaders witnessed the aircraft making the landings on the 3.2-km long airstrip which enables landing and take-off of IAF planes in case of emergency. The Expressway is about 341 km long and has been built at a cost of ₹22,500 crores.
The aerial formation was led by Mirage 2000, followed by Sukhoi 30 and Jaguar at the airstrip on the Purvanchal Expressway in Uttar Pradesh.
The mighty Sukhoi 30 of the Indian Air Force could be seen twisting and turning before disappearing into the day sky.
India's Garud and Special Forces Commandos put up a display after exiting An-32 aircraft at the Purvanchal Expressway.
Prime Minister Narendra Modi had laid the foundation of the Purvanchal Expressway in July 2018. The expressway has 6 lanes, which can later be expanded to 8. The speed limit on the expressway has been set at 100km/hour. It is expected to boost economic development in several districts in Uttar Pradesh such as Ayodhya, Sultanpur, Ambedkar Nagar, Azamgarh, Mau, Lucknow, Barabanki, Amethi, and Ghazipur.