Kolkata, Nov 25: BJP leader Subramanian Swamy met West Bengal Chief Minister and TMC leader Mamata Banerjee and sparked speculations across social media. The speculations also included him joining the Trinamool Congress (TMC). However, Swamy put an end to the rumors of his joining the TMC.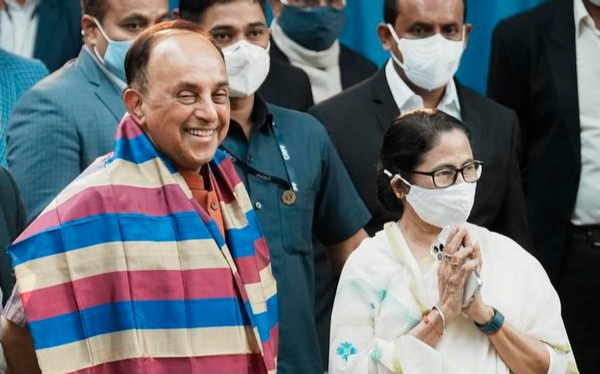 Swamy praised the TMC supremo saying that Mamata Banerjee, like other tall leaders in his opinion, said what she meant and meant what she said. According to him, that was a rare quality in any leader. He compared Mamata Banerjee to JP, Morarji Desai, Rajiv Gandhi, Chandrashekhar, and P V Narasimha Rao.
On the other hand, he took to Twitter and declared that he will meet the police officials in Bengal and "fact check" the post-poll violence 6 months after it began in May. "Around mid Dec.I will go with a VHS team to Bengal to assess the situation that developed recently in some parts of the State. I will talk to officials for doing a fact check. I recall CM Mamata three years ago responding favourably when I told her about freeing Tarkeshwar Temple".
Notably, a reign of terror was unleashed after there were several incidents surfacing that there was violence against Hindus done by TMC goons. They had been murdering and raping women after TMC had won the elections in May.