Kurukshetra, Dec 1: In a huge boost to cultural development, Haryana Chief Minister Manohar Lal Khattar announced that the mega 'International Gita Mahotsav' in Kurukshetra will be starting from December 2 to 19.
Thousands of pilgrims from different parts of the country reached Kurukshetra for the International Gita Mohatsav 2021. The Manohar Lal-led government had started organising the religious extravaganza with an aim to promote the teaching of Bhagavad Gita.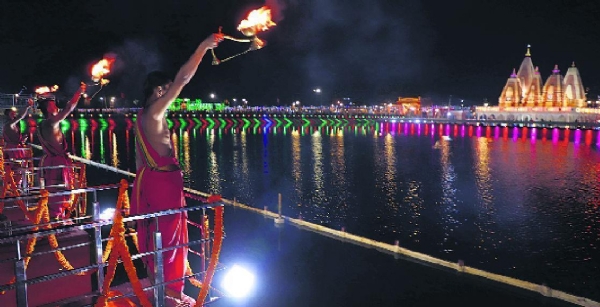 The Mahotsav will have multiple cultural programs with different themes. Though the Mahostav will commence on December 2, the main programs will be from December 9 to 14. According to Khattar, a total of 3.5 lakh people will be connected virtually from abroad.
Further, he also added that more than 2,700 national & international artists & 21 sculptures related to the Mahabharat will be here. "We'll invest Rs 200 crores to recite the tales of Mahabharat via electronic systems. 75 eminent painters will work on Gita-Mahabharat subjects for 3 days," he said.
According to the reports, an online competition on the holy book Gita and Azadi Ka Amrit Mahotsav is also being conducted between 21 November and 8 December as part of the International Gita Mahotsav-2021.
On the other hand, Khatter said that a Gita seminar will be also organized on December 10 and slogan chanting will be done by around 55,000 students on December 14.