Leh, December 01: Jal Jeevan Mission is changing the lives as the Umla village in Leh in the Union territory of Ladakh, households located in the harsh mountain terrain get first guaranteed tap water, even in sub-zero conditions under the Jal Jeevan Mission.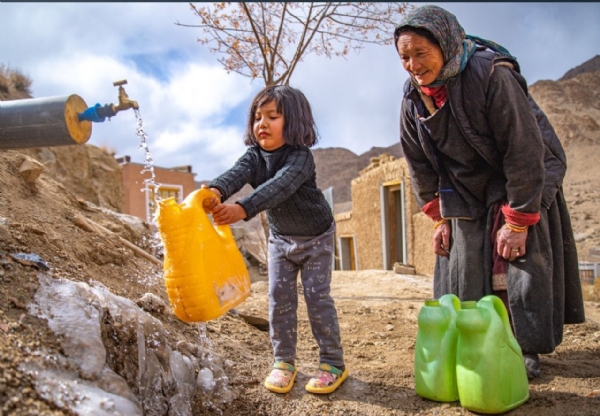 Umla is a small village located in Leh Tehsil of Leh district, with a total of 21 families residing. It is located in the Likir tehsil. As per Population Census 2011, Umla village has a population of 99 of which 53 are males while 46 are females.
While expressing their happiness, villagers said "Earlier during winters, we had no option but to fetch water from streams by breaking ice layer. Now, we have heard that the administration has dug up almost 8 feet to extract water. We have heard that the deeper we go under the ground, the water remains warmer."
Another villager said, "It was very difficult during winter. Earlier, during winters, the snow would be around 4 feet. All the water taps in the village would be covered with snow, so we had to go to streams to fetch water."
With that Umla has become the 12 villages of the UT to get water supply under the Jal Jeevan Mission. Earlier, Leh's Chushul village get 24\7 first functional household tap connection (FHTC) under Prime Minister Narendra Modi's Jal Jeevan Mission. It is situated at a height of over 14,500 feet close to the LAC and has a temperature of -15 degrees.
According to a government press release, the Jal Jeevan Mission provided 100% tap connections to 12 villages in Leh, out of a total of 60 villages. Local administration is using air sorties to supply Jal Jeevan Mission goods such as water pipes to Dipling village in Leh, a remote region with no road access. In comparison to 24,767 households, 5,425 households now have 100% tap connections under the JJM. The JJM has covered 12 settlements, including those that are inaccessible by road, such as Dipling.
.
.