New Delhi, December 01: Sticking to his previous decision, Rajya Sabha Chairman and Vice President M Venkaiah Naidu refused to revoke the suspension of the 12 Members of Parliament (MPs) saying "it is not worth considering".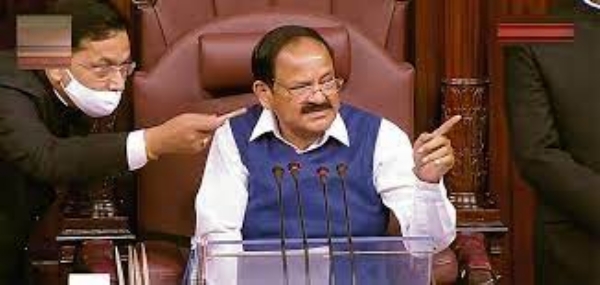 While responding to Leader of Opposition, Rajya Sabha Mallikaarjun Kharge's request to revoke the suspension, "The members who had committed the sacrilege against the house have not shown remorse. So, I think the appeal by the Opposition [to revoke the suspensions] is not worth considering."
The bitter experience of the last Monsoon Session continues to haunt most of us. I was expecting and waiting for the leading lights of the House to take lead in expressing outrage over what happened in the last Session," Naidu said in Rajya Sabha. "In a Parliamentary democracy, you can either talk out or walk out. I respectably honor their sentiments," Naidu said.
It should be noted that twelve opposition MPs were suspended from the Rajya Sabha for the rest of the Winter Session on account of 'unruly behavior' during the Monsoon Session of Parliament.
The suspended MPs include Elamaram Kareem of the CPI(M), Phulo Devi Netam, Chhaya Verma, R Bora, Rajamani Patel, Syed Nasir Hussain, Akhilesh Prasad Singh of the Congress, Binoy Viswam of the CPI, Dola Sen and Shanta Chhetri of TMC, and Priyanka Chaturvedi, Anil Desai of Shiv Sena.
The official notice said, "This House takes cognisance and strongly condemns the utter disregard to the authority of the Chair, complete abuse of rules of the House persistently thereby wilfully obstructing the business of House through their unprecedented acts of misconduct, contemptuous, unruly and violent behavior and intentional attacks on security personnel on the last day of 254th Session of Rajya Sabha i.e. August 11."
.
.