New Delhi, Dec 1: Muslim Rashtriya Manch, Vishwagram, and Forum for Awareness of National Security has organized an international seminar on global terrorism and dividing line of fundamentalism on December 11 here in New Delhi.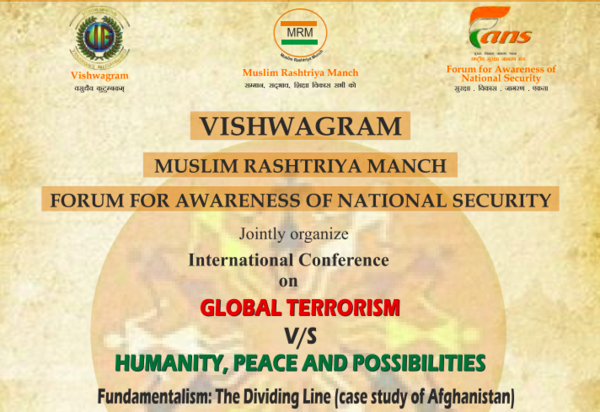 The conference seeks to address such emergent questions on global terrorism by bringing academics and practitioners under one roof to brainstorm on them. The broad themes to be discussed at the event are as follows-
1. Global Terrorism and the Dividing Line of Fundamentalism
2. Human Rights crisis in emerging Terrorism
3. Role of international institutions and world Powers in Present Afghanistan Crisis
4. Issues of Human Values, Peace and Security
5. The Vision Ahead: Joint Efforts to curb terrorism
The patrons present in the seminar will be Dr Indresh Kumar (National Executive Member, RSS), Swami Chidanand Saraswatiji (Parmarth Niketan), Arif Mohammed Khan ( Kerala Governor), Dewan Syed Zainul Abedin Ali Khan ( Spiritual Head Ajmer Sharif Dargah). There will be Board of Convenor's present in the seminar.
The seminar
will be held on December 11 from 9 am to 6 pm. For registration
click this link.