Mumbai, December 01: Shedding crocodile tears, Bollywood's so-called actress, Swara Bhaskar, spelled out her hidden anti-Hindu agenda in front of Mamata Banerjee during her interaction session with eminent personalities from different walks of life in Mumbai.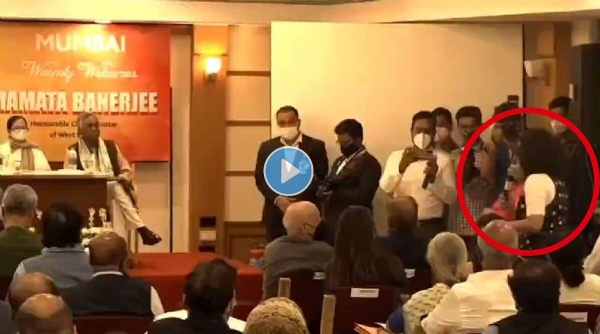 The Trinamool Congress chief and West Bengal chief minister Mamata Banerjee in Mumbai for a two-day visit. She was packed with political and business meetings. In a conference, almost all so-called liberals including Swara Bhasker were present. Bhasker stood up and to impress 'Didi' she started praising Banerjee, saying, "Didi has shown that the game is over."
She further inroduce the anti-national and comedian Munawar Faruqi, Aditi Mittal, Richa Chadha saying they are fighting to preserve the 'idea of India'. She added that they have become sandwiched between two sides: the mob of 'unaccountable' people and the State that uses measures to curb freedom. She also urged the West Bengal CM to save them from harassment - multiple FIRs cancelled shows, and strike down UAPA law.
Ironically, Mamta Banerjee, earlier jailed Priyanka Sharma, a Bharatiya Janata Party youth leader in Kolkata, for sharing a meme of Banerjee. She also jailed a Chemistry Professor from Jadavpur University in 2012 for sharing a meme. Ambikesh Mahapatra was arrested and charge-sheeted under Section 66A of the Information Technology Act for sharing a cartoon on Mamata Banerjee.
The actress then claimed that a group of young people had risked their lives, and employment to put up resistance against the incumbent BJP government.She further continued and told the West Bengal CM how she and her fellow friends, including Richa Chadha, are unemployed. She said young talent like her and Munawar Faruqi are unemployed. She asked Banerjee to save artists like her in Mumbai.
Moreover, showing her so-called faith in West Bengal CM, Swara also added that artists are finding it difficult to "tell stories" and the government is using sedition law and UAPA provisions indiscriminately. She said, "There is a state which is distributing the UAPA and sedition charges as a prasad from a God we don't want to pray to." The actress then went further and claimed that a group of young people had risked their lives, and employment to put up resistance against the incumbent BJP government. She appealed to West Bengal Chief Minister Mamata Banerjee to protect the democratic principles of the country.
Hilariously Baskar asked help from a person who has a track record of curbing freedom of speech, silencing the voice of dissenters, and encouraging violence against political opponents. The violence that was unleashed on the hundreds of BJP party workers and supporters has forced them to flee their villages along with their families. They crossed over to Assam, where they have been provided temporary shelter under the supervision of minister Himanta Biswa Sarma.
.
.