Atal Bihari Vajpayee wasn't just a visionary but was also an outstanding statesman, politician, leader of people, and someone who was loved by all. In his political career, which spanned several decades, he created a legacy that will ensure that he will never be forgotten.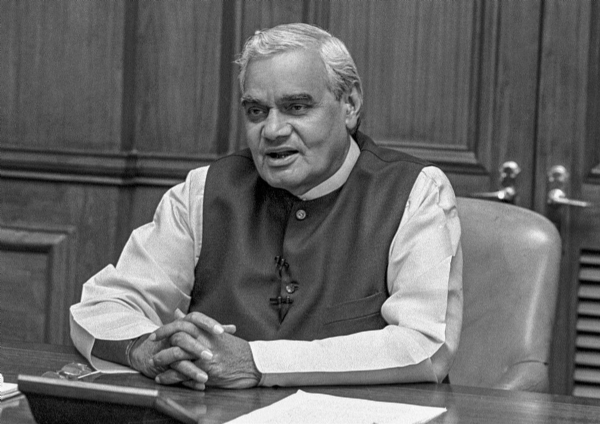 He was born on December 25, 1924, in Gwalior. His father was Pandit Krishan Bihari Vajpayee, a teacher by profession. His mother's name was Krishna. He studied at Victoria College, Gwalior - now Laxmibai College. He joined RSS as a student, and then went on to become a national level debater.
He attended DAV College at Kanpur, where him and his father studied law together. They both attended the same class, and lived in the same hostel room. But other students started talking about the father-son duo, and hence, both were placed in different sections. He did his 1st Div PG in Political Science. He always wanted to become a journalist, but entered politics by chance, as told by him in an interview. It was under the mentorship of Dr Shyama Prasad Mukherjee and Pandit Deendayal Upadhyay that Vajpayee Ji's political philosophy grew. Vajpayee ji also did work as a journalist for some time, with Panchjanya, Rashtra Dharm, Dainik Swadesh and Veer Arjun.
His oratory skills had impressed Jawaharlal Nehru to a great extent. He also predicted that Atalji will become Prime Minister of India one day, which was proven right. After Independence, Vajpayee ji became National General Secretary of Bharatiya Jan Sangh and was in-charge of North India.
In 1957, he contested Lok Sabha elections from 3 seats on the Jan Sangh ticket. He lost in Lucknow, lost his in Gwalior but won from Balrampur. After the death of Pandit Deendayal Upadhyay in 1968, he became National President of JanSangh. During the national Emergency from 1975 to 1977, he went to jail several times. In 1977, he became Foreign Minister in the Morarji Desai government.
As the FM, he addressed the UN General Assembly in 1977. Here, he spoke in Hindi, which was the first time that anyone had addressed the UN in Hindi. Vajpayee ji himself said that this was one of the crowning moments of his life.
In 1980, Vajpayee, Advani and B S Shekhawat formed Bharatiya Janata Party. Vajpayee ji became the first president of the party. He was a vocal opponent of the Congress in the 80s. He spoke strongly against the growth of terrorism in Punjab and openly attacked Congress.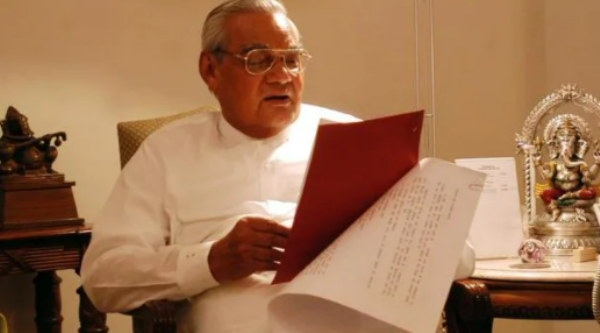 He won Lok Sabha elections 9 times. He was also a member of the Rajya Sabha from 1962 to 1967 and in 1986. In 1996, it was under his leadership that BJP emerged as the single largest party in Lok Sabha. The then president, S D Sharma invited Vajpayee ji to form the government. Vajpayee ji took oath as the 10th PM of India. But he was unable to prove his majority on the floor of the house and resigned after 13 days. He held the highest office for 3 times, and was the first PM to run a Coalition Government in India with 26 parties.
After the 1998 elections, BJP formed the govt with the help of other parties. Vajpayee ji became the PM again.The most popular politician and the 1st ever non-congress PM to serve a full term of 5 years in office, widely respected not only by his followers but also his opponents, which is extremely rare.
Narasimha Rao, former PM of Indi used to treat Vajpayee ji as his political guru. As per 'scrolldroll', Vajpayee ji's sister used to throw his pants across the wall which he wore outside the house, because his father was a government employee and didn't allow him to wear RSS Khakhi pants. This shows his love for RSS. Vajpayee ji practiced celibacy and didn't get married. But he did adopt a daughter named Namita.
Vajpayee ji is the only Parliamentarian who was elected for Lok Sabha, for 10 times, from 4 different states - UP, MP, Gujarat, and Delhi. Vajpayee ji was also the first External Affairs Minister and the first person to deliver a Speech in Hindi at the United Nations General Assembly. Vajpayee ji launched the Golden Quadrilateral project, Prime Minister Rural Road Network scheme and Education for all during his term as prime minister. Vajpayee allowed nuclear weapons and their testing. The Pokhran nuclear test was held during his tenure.
Also Read | 11 Acts/Reforms introduced by Atal Bihari Vajpayee that no one knew about-
The Agra Summit took place between Vajpayee ji and General Pervez Musharraf between 14 and 16 July 2001. To illustrate the power of "Science", Vajpayee ji improvised the famous quote by Lal Bahadur Shastri - Jai Jawan, Jai Kisan. Vajpayee ji's true passion was poems. He released two albums with Jagjit Singh, featuring his poems: Nayi Disha (1999) and Samvedna (2002).
To bring in full-scale diplomatic peace process with Pakistan, he inaugurated the historic Delhi-Lahore bus service in February 1999. He was sick for a long time, and went under 10 surgeries, for close to 20 years. In 2001, he underwent knee replacement surgery. In 2009, he suffered a brain stroke. After that, he retired from public life. He dedicated his great career in politics to Amar Kirti Vijay Pataka by Mahatma Ramchandra Veer.
Vajpayee ji's birthday (25th December) has been declared as Good Governance Day by the NDA. He was honoured with Padma Vibhushan in 1992, the Best Parliamentarian award in 1994 and Bharat Ratna in 2014. Vajpayee ji had a great run as the Prime Minister and reshaped India in many ways. With his sheer political intelligence, he not only became an epitome of leadership but also won the hearts of many with his wit and his poetry.