Dignitaries at the public meeting organized on the sidelines of the three-day VHP meeting at Junagarh
Junagarh (Gujarat), Dec 27: The three-day joint meeting of Vishwa Hindu Parishad (VHP) Central Board of Trustees and Managing Committee resolved to intensify the
'ghar-vapsi'
campaign in order to put a permanent full stop to religious conversions in India.
VHP Central Working President Adv. Alok Kumar said that the the VHP activists have engaged them in this mission of liberating the country from the curse of religious conversion. Those who had accepted and converted to any alien religion due to any reason in the past will be brought back to their ancestral religion in a country-wide 'ghar vapsi' campaign by the VHP. Through this campaign the VHP will urge and inspire those who were converted by all means fair and foul, by allurements, fear, or through a conspiracy to embrace their ancestral religion and be proud stakeholders of the glorious traditions of their ancestors.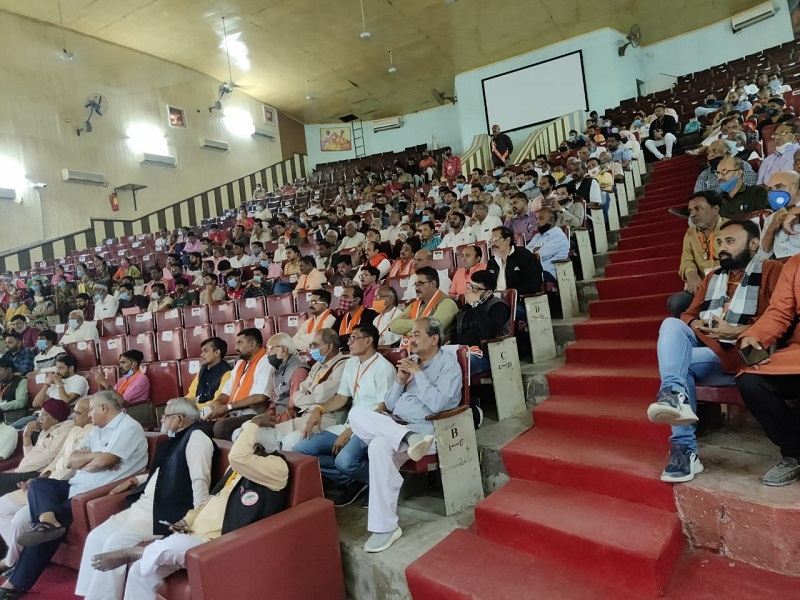 The audience at the public meeting
He was addressing a public meeting organized on the sidelines of the three-day meeting of the VHP Central Board of Trustees and Managing Committee here on Sunday evening. He said that Junagarh was merged with India due to pressure from the common people who revolted against the ruler Nawab who wanted to merge with Pakistan after Independence. They even forced the Nawab to flee to Pakistan to save life. We are proud of the people of Junagarh, Alok Kumar said.
The VHP leader said that India is a dharma-based and spiritual country. When our Prime Minister prostrated before the Ramjanmabhumi Shrine at Ayodhya on August 5 last year, the whole world was reminded of India's dharmic and spiritual nature and tradition. We have to bring our SC/ST brethren at par with us to achieve all round progress of the society and the country. He assured that the VHP would enroll around 1000 youth for social awakening mission.
Addressing the massive audience gathered on this occasion, BHP President Padmashri Dr. R. N. Singh said that average Hindu is tolerant by nature but this should not be construed as his weakness by others. We need to be vigilant and alert to save our culture and tradition from the various types of aggressions. He attracted the attention of the audience towards the facts that Muslims are increasing by force and cruelty while the Christians are increasing their fold cunningly. We will have to deal with them with our skill and valor, he said alerting the audience about the 'halal economics' and boycott 'halal' certifications products.
The meeting held at Gujarat Agriculture University premises was attended by VHP Joint General Secretary Dr. Surendra Jain, Vice-Chancellor of the Gujarat Agriculture University Narendra Bhai Gotia, District President Harish Bhai Sanwalia, Special Guest of the program Dipendra Bhai Yadav, Junagarh Mayor Dheeru Bhai Gohil, VHP Junagarh Mahanager President Bharat Bhai Modi, VHP Saurashtra Prant President Bharat Bhai Bhindi and office bearers of various organizations and others.