The Ghar Wapsi initiative is gaining momentum across the nation, nine members of a Christian family re-converted to Hinduism at an event at the Rama Bhajan Mandir in Jannapur a day after Christmas. They converted to Hinduism in the presence of VHP and Bajrang Dal members.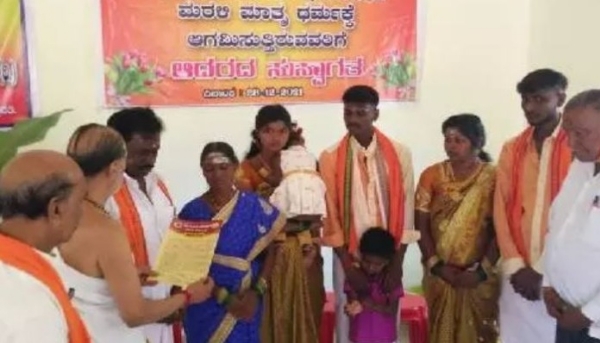 Jayasheelan, his wife Jayamma, their sons Prabhakaran and Prakash, and their daughters-in-law Lalita Prabhakaran and Shwetha Prakash, all of Antaragange, are amongst those who have re-converted. As per the local reports, Jayasheelan's father, Elumalai, turned to Christianity 35 years ago. However, the family continued to practise the Hindu religion.
"These families were converted to Christianity many years back, and they wanted to return to Hinduism. But they had some kind of fear about the society accepting them and what the Christian community might think of them. So, we were in touch with them for the past six months and talked to them following which they were re-converted to Hinduism on Sunday. There are around 100 people who wish to reconvert, we are in touch with them and they will also return to Hinduism very soon. We will organise a grand event for their conversion, " said the BD leader.
It should be noted that the development comes days after the Karnataka government passed the Anti-Conversion Bill in the Legislative Assembly that provided for jail terms for those engaging in mass religious conversion.
On November 28, 23 persons from five Christian families in Karwar's Haliyal taluk converted to Hinduism. Anant Kumar Hegde, MP for Uttara Kannada, presided over the occasion.