At a time when the IAF helicopter crash incident sent shockwaves throughout the nation and citizens of the country are praying for the health of CDS Bipin Rawat and his family, who were injured in the tragic incident, there are some anti-Indian morons who are busy celebrating the accident. One of the morons, a former colonel, Baljit Bakshi, took the social media site and celebrated the accident and the horrifying crash by calling it karma."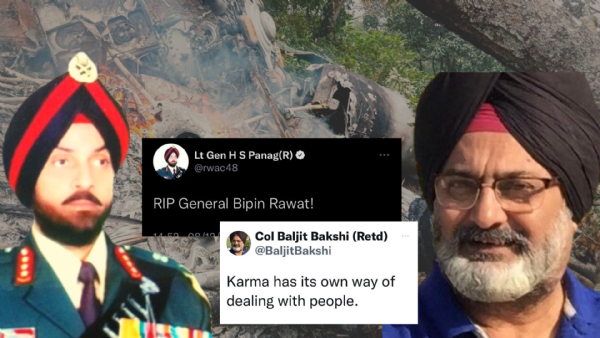 An IAF Mi-17V5 helicopter, with CDS Gen Bipin Rawat on board, met with an accident today near Coonoor, Tamil Nadu. After the incident, taking the social media site, Bakshi wrote on Twitter, "Karma has its way of dealing with people." Minutes after his tweet, Bakshi started facing blacklash on social media.
Eventually, the retired colonel deleted his tweet and posted an apology. He wrote, "I see that a tweet by me earlier in the day was not taken kindly by many. Though I had no intention of wishing anything bad to anyone, ye, in keeping with the sentiments of people, I deleted the tweet in all sincerity. I apologize if I hurt anyone." The apology tweet was also deleted a few minutes later.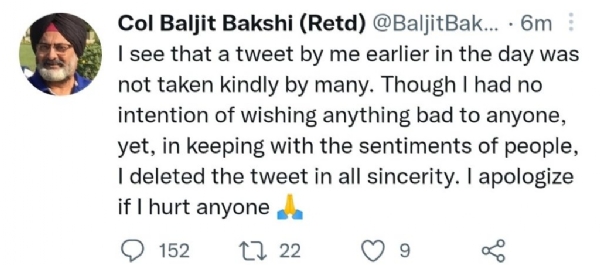 While one moron called it Karma, the other moron, Lt Gen Panag (R), went a step further and already declared Gen Rawat dead. He took to social media and posted, "RIP General Bipin Rawat!."
Reportedly, General Rawat has been shifted to a military hospital. Rawat is undergoing treatment at a hospital. Of the 14 people on board the aircraft, 11 have lost their lives. However, details about them are not out yet. Defence Minister Rajnath Singh will be issuing a statement on the chopper crash in Parliament on Thursday, December 9.
It is very shameful that when they have to stand with the nation, people like them who were once part of the army are celebrating such fatal accident. It seems like hatred towards a person has increased so much that people have forgot the word "humanity".