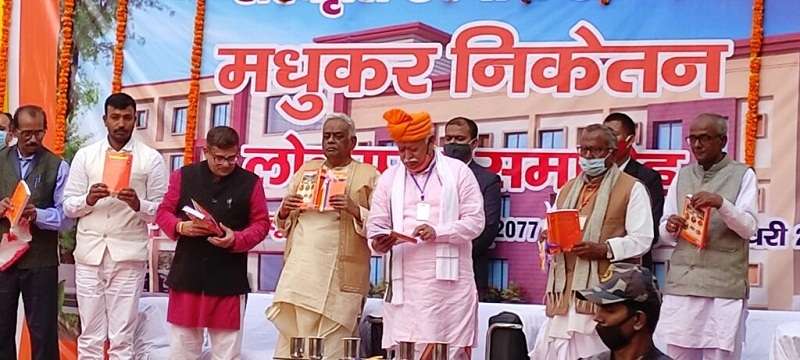 Muzaffarpur (Bihar), Feb 16: Rashtriya Swayamsevak Sangh (RSS) always thinks and acts for the global welfare and good of the humanity, asserted Sarsanghchalak Dr. Mohanrao Bhagwat here on Sunday.
He was speaking at the program after dedicating 'Madhukar Niketan' constructed under the aegis of Sanskruti Utthan Samiti. He said RSS has the capacity to achieve global unity because each of its swayamsevak thinks for the good of the humanity.
He said that Dharma is not confined to mere ways of worship but should be seen as a link to bind the society together. The selfless service of the swayamsevaks and dedication to the society is the strength of the organization, he added/
Throwing light on the objectives and history of RSS, Bhagwat underlined the service activities swayamsevaks are conducting.
In the morning he visited the biological garden of Gopal Shahi in Khetal village and addressed the farmers there. The country can flourish only when the farmers are happy and prosperous, he said. The country lives in the villages and farmers are the backbone of our economy, he added.
He was presented the painting of King Janaka and Mother Janaki in Mithila style. The program was conducted by Treasurer of Sanskruti Utthan Samiti Chandramohan Khanna while welcome speech was delivered by State President Gauri Shankar Prasad.
Kshetra Sanghchalak Siddhinath Singh, Prant Sanghchalak Vijay Jaiswal, Kshetra Pracharak Ramdutt Chakradhar, Dy. Chief Minister Renu Devi, Tara Kishore Prasad, Health Minister Mangal Pandey, Land Reforms and Revenue Minister Ramsurat Rai, BJP Leader Shiv Narayan Prasad, and ministers, MLAs and RSS office-bearers were present on this occasion.