Mumbai, Feb 16:
The
Indian Navy
got its third Scorpene submarine (Kalvari-class), which will be commissioned as INS Karanj, of Project P-75 here on Monday. INS Karanj is the third Scorpene submarine constructed by Mazagon Dock Shipbuilders Limited after Khanderi and Kalvari. The submarine is built in India in collaboration with the Naval Group of France.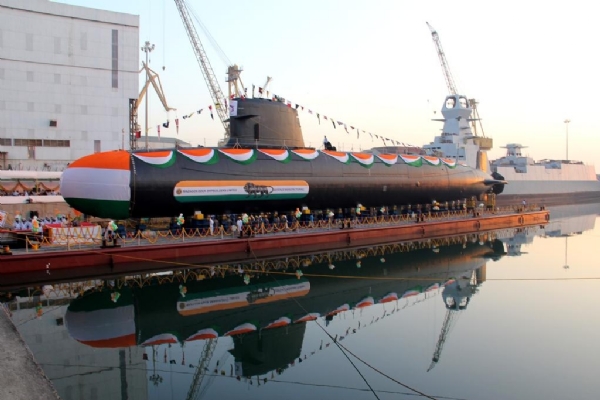 The Indian Navy has contracted for six of these submarines. The first such submarine INS Kalvari was launched in October 2015 and commissioned in December 2017, five years behind the schedule. The second, INS Khanderi, was launched in January 2017 for sea trials and commissioned in September 2019.
The fourth of the class, INS Vela, is currently undergoing trials at sea, and will be inducted this year. The fifth boat of the class, INS Vagir, was launched in November 2020 and will be commissioned in 2022. The sixth, named 'Vagsheer' after a Vela-class diesel-electric submarine of the Indian Navy commissioned in 1973, is currently under construction.
The deal for six Scorpene submarines was signed in 2005 and the first submarine of the class was to be delivered to the Indian Navy in 2012. However, inordinate delays and teething problems pushed the induction schedule off track.
Scorpene-class submarine
The 67.5 metres long Scorpenes, considered to be one of the quietest diesel-electric submarines in service around the world currently, displace around 1,700 tonnes when submerged. The boats, which have an endurance of around 45 days, are armed with heavyweight torpedoes, anti-ship missiles and mines.
They can undertake multifarious missions like anti-surface and anti-submarine warfare as well as intelligence gathering, mine laying, area surveillance, etc.
The submarine of this class have superior stealth features such as advanced acoustic silencing techniques, low radiated noise levels and hydrodynamically optimised shape and the ability to launch an attack on the enemy using precision-guided weapons. The attack can be mounted with both torpedoes and tube-launched anti-ship missiles, at the same time as underwater or on the surface.