The construction of the 'bhavya' Ram Mandir at Ayodhya has become a dream of every Indian now! While the donations are being taken from people for Ram Mandir under the
Ram Mandir Ayodhya Samarth Nidhi
, an 11 year old girl Bhavika Maheshwari from Gujarat has collected about Rs 50 lakh by reciting
4 Ramkathas
in Surat and donated the amount for construction.
With this, this little girl,
Bhavika Maheshwari
has set a unique example of Ram Bhakti by reciting Bhagavad Gita along with schooling during lockdown. While was she reciting the Ramayana, she seemingly came to know about the existence of Lord Rama and his greatness and then realised that she too would contribute to building a Ram temple in her own way.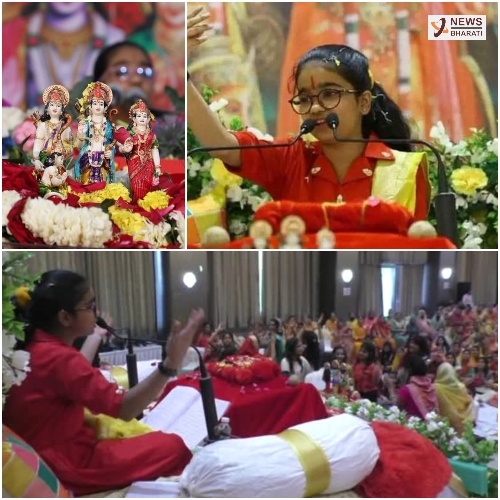 Interestingly, this also is the first time in India that an 11 year old Bhavika,
daughter of Rajesh Maheshwari
is doing Ramakatha at such a tender age and thousands of people are listening to it. People meanwhile are also observed donating their contribution on her appeal.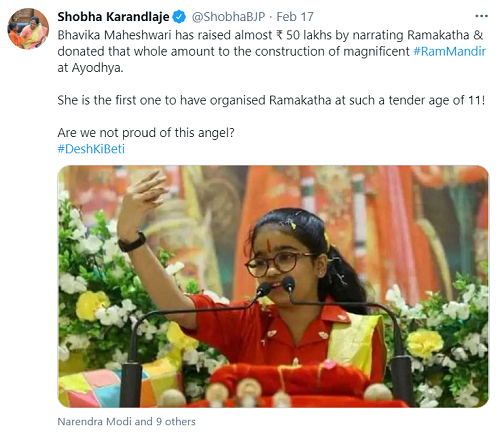 Talking to one of the
news channels
,
Bhavika
said that her grandparents and parents inspired her to recite Ramkathas. "Do donate as per your ability given by God" she said. Bhavika's father
Rajesh Maheshwari
said, "When people are donating to build a Ram temple in their own way, my daughter thought of doing Ramakatha at such a young age." It is a matter of pride for me that she too can contribute to the construction of the magnificent Ram Temple. Bhavika, who is studying in standard 6, is also the founder of Mobile Addiction Clinic and Talent World.
ALSO READ- Do you want to donate amount for Ram Mandir Nirman? Account details, QR, online pay methods inside-
The Vishwa Hindu Parishad and the Sangh Parivar's nominated representatives are collecting funds from the city and villages. For this, 10 lakh teams have been made across country. From the day the construction starts, the temple would be completed in 36-39 months, said Champat Rai, general secretary of the Shri Ram Janmabhoomi Teerth Kshetra.