Pune, February 22: In line to the large scale misuse of SC status for political benefits observed in the states of Andhra Pradesh and Telangana, the Legal Rights Protection Forum on Monday has written to the Law Minister Ravi Shankar Prasad further demanding to amend the Representation of People Act, 1951.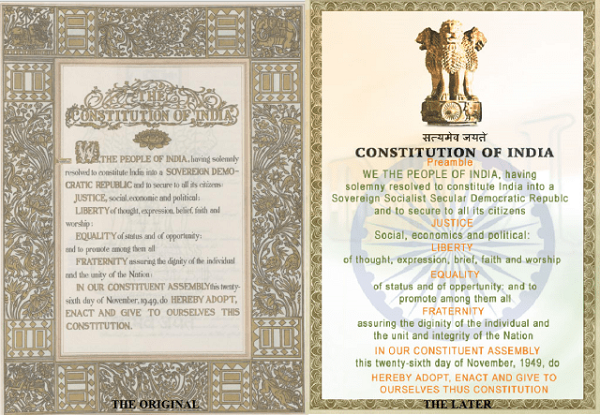 "Amendment- By giving wide discretionary powers to Returning Officers to scrutinize/accept or reject caste certificates produced by the contestants instead of merely accepting caste certificates produced by the contestants", the Forum tweeted. Bringing to Law Ministry's notice the phenomena of Scheduled Caste reserved seats being contested by converted Christians holding Hindu SC caste certificates, the Legal Rights Proection Forum noted that the problem was acute in the states of Andhra Pradesh and Telangana.
It has also demanded the Minister to pass a new legislation that would clearly define who is a Hindu, a Christian and a Muslim and when will a Hindu be considered to have become a Christian/Muslim and vice-versa. "Requested Hon'ble Minister to take our recommendations into consideration in order to safeguard the interests of genuine SCs and achieve the goal of Social Justice - The Golden Dream of makers of The Constitution India", it added in a series of tweet further.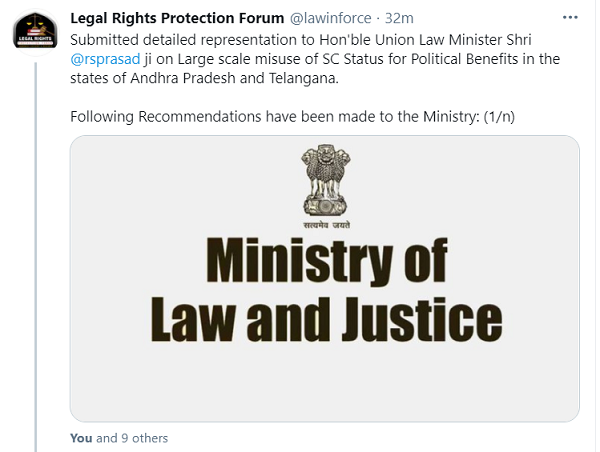 This is probably on the grounds of judicial pronouncements such as- "Name and Religion are not linked", "Name need not be changed on converting from one religion to another", "Hindu can't be considered as Christian merely because he attends Church or reads Bible", that results in large-scale misuse of SC reservations. Earlier in the month of September, 2019, the Legal Rights Protection Forum had complained to Rashtrapati Bhavan regarding the misuse of Scheduled Caste certificate by Vundavalli Sridevi, MLA of YSR Congress Party, Tadikonda SC Reserved Constituency (Guntur – Andhra Pradesh) in view of her open admission on camera, that she is professing Christianity. With the directions from Rashtrapati Bhavan, an enquiry was conducted by the District Level Scrutiny Committee on 26-11-2019 but the matter is still pending.
Also, the National SC Reservation Parirakshana Samiti in November 2019 had complained to Chief Electoral Officer and Chief Secretary of Andhra Pradesh against misuse of Scheduled Caste status by Mekathoti Sucharita, MLA and Home Minister of Andhra Pradesh who openly admitted that she is a Christian. Till date there is no response from the concerned authorities in this matter.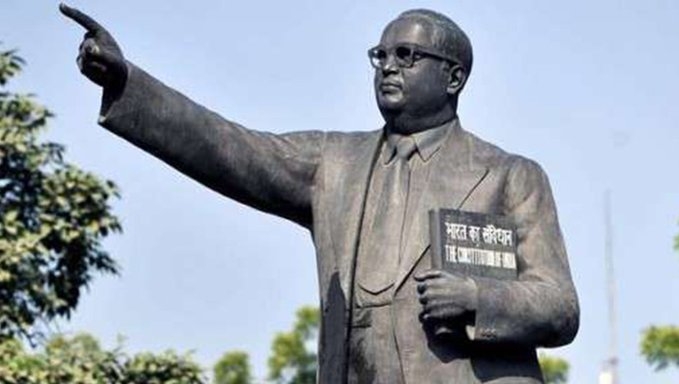 "The provisions of the Representation of People Act, 1951 have proved inadequate in the wake of a large number of instances of ineligible candidates contesting from SC constituencies. The framers of our constitution and our visionary elders have not taken into possibility that, in future, there will be converts to Christianity from SCs and such converts will misuse the reservation benefits which have been enshrined in the Constitution of India and various acts enacted subsequently. The lofty ideals and dreams of the framers of our constitution are being destroyed through gross misuse of SC reservation benefits. The powers of the Election Commission and Returning Officers dealing with nomination procedures during elections have to be strengthened", the LRPF in its letter to Ministry noted.
.