New Delhi, February 23: This day, 2020... Do you remember the date? Sure you do! A huge amount of public property across India had been destroyed with impunity by the frenzied crowds; motors vehicles, buildings had been set ablaze while many innocent people had been shot and killed. There were increasing numbers of political leaders who thus "planned and orchestrated" such terror activities. Instigating the crowds had become a new game!
It's one year to the
Delhi riots 2020
that erupted through multiple waves of bloodshed, property destruction, and rioting in North East Delhi. An episode of the same created a formidable challenge for the possibility of justice, because of a long almost unbroken tradition of impunity for perpetrators of hate crime in India. The outlook for justice be more distant after the communal conflagration of February 2020. Here are few images and videos that might still blow you out-
1. On 22 February, a group, largely comprising women, sat down to protest peacefully against the Citizenship (Amendment) Act (CAA) under the Jaffrabad Metro Station, occupying one of the carriageways under the raised metro line. There was no inkling, at the time, of the widespread violence that would follow.
2. On 23 February, in the afternoon stone pelting began in the area, and, by the evening, groups opposing and supporting the CAA were squaring off. There was heavy police deployment, and the situation seemed to be coming under control.
3. The situation spiralled out of control on 25 February, Tuesday. The violence had spread to an even wider area on either side of the Jaffrabad main road. There were many instances of journalists being attacked. There were also numerous instances of mobs snatching phones from journalists to delete incriminating photographs and videos.
4. Mobs target a shop in Gokalpuri on 25 February. After the worst day of rioting, police forces finally got the situation under control on 26 February.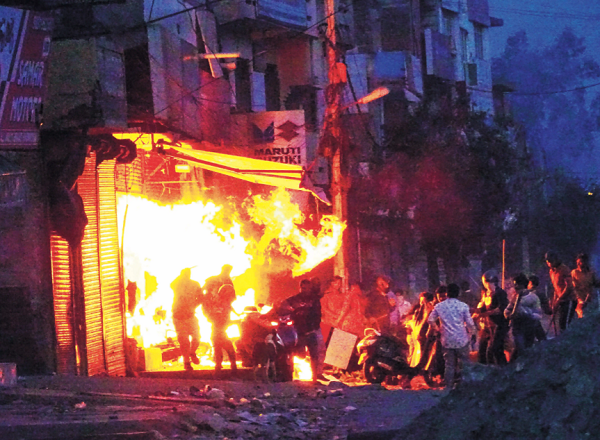 Throughout the day later, national security adviser (NSA) Ajit Doval and Delhi chief minister Arvind Kejriwal visited affected neighbourhoods separately, even as Prime Minister Narendra Modi tweeted out a statement to maintain peace and harmony.
India's national capital saw its worst Hindu-Muslim violence in seven decades in February last year with two and a half days of rioting leaving at least 53 dead, many more injured, and thousands affected. The so-called intellectuals and political parties systematically fed false information and incited millions of Indians to voice against the Indian ethos and values, sometimes directly and sometimes indirectly. Also, the violence and terror activities clearly revealed the most disgusting ground realities which will never augur well so far as the sovereignty and peace in the country is concerned.
.
.