New Delhi, February 24: You've sure heard a lot about the 51-year-old Delhi Police constable turned farmer (as he claims), who voted for the BJP in 2019 Lok Sabha Elections and is now flagrantly cornering the governmnet over three farm laws. But do we know that this man is not a farmer in fact but only earns a portion of his mountain like income from farming?
Up in the farmers protest, the 'farmer leader'
Rakesh Tikait
on Tuesday blatantly warned the Centre of marching to Parliament if it did not scrap the three farm laws against which the farmers have been protesting on several borders of Delhi for nearly three months now. "This time the call will be for Parliament gherao. We will announce it and then march towards Delhi. This time 40 lakh tractors will be there instead of four lakh tractors," he said.
Well, one question that immediately should strike one's mind is where has Tikait who was a constable earlier gathered all this trafficking, bargaining mastery from? Is he a farmers leader really or some business tycoon? Statistics show that the average earning of any farmer belonging to the Bharatiya Kisan Union is Rs 6400. But
Rakesh Tikait
who is also a part of Bharatiya Kisan Union and heads the farmer's protest owns properties worth Rs 80 crores across Bharat.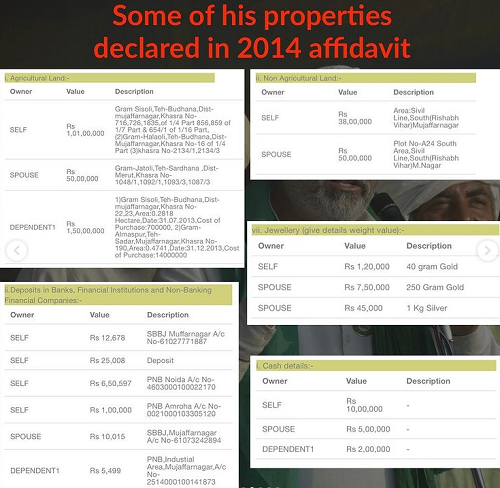 According to the reports,
Rakesh Tikait
, who also has three criminal cases pending in his name, has assets in four states- Uttar Pradesh, Uttarakhand, Delhi and Maharashtra. Further he has these assets in 13 cities being Muzaffarnagar, Lalitpur, Jhansi, Lakhimpur Kheri, Bijnor, Badun, Delhi, Noida, Gaziabad, Dehradun, Roorkee, Haridwar and Mumbai.
Tikait was once a constable but eventually he turned a businessman having businesses in areas like land, petrol pumps, showrooms, brick kilns among others. Tikait had contested the 2007 UP Assembly elections from the Khatauli seat with Congress's support, only to finish the distant sixth. Further in 2014 Indian General Election, he fought on a Rashtriya Lok Dal ticket from Amroha Lok Sabha constituency, in UP, though he managed to poll only 9,539 votes to finish the fourth.
Also
according to some local reports
Tikait has captured and kept a deer (black duck) at his home, which is illegal in Bharat and is punishable offence which invites an imprisonment of 7 years or an imposition of Rs 25000 or both.
.
.