I'll come straight to the point. A few days ago, Greta Thunberg stormed the internet with a toolkit. The toolkit basically contained guidelines for organizing events to support the farmers' protest. While going through it, a particular line caught my eye -
"Disrupt 'Yoga' and 'Chai' image of India in general"
The comment made me sit up in astonishment. There's nothing wrong in supporting a protest (even if you are not a citizen of that particular country), or opposing the government with respect to the protest. Taking actual organized steps to show your resentment ( whilst not breaking the law in any form ) is also not wrong. But when statements like the above are made, it makes me doubt the intentions of these people - the people those we see, and those who are the real masterminds and remain hidden from our eyesight.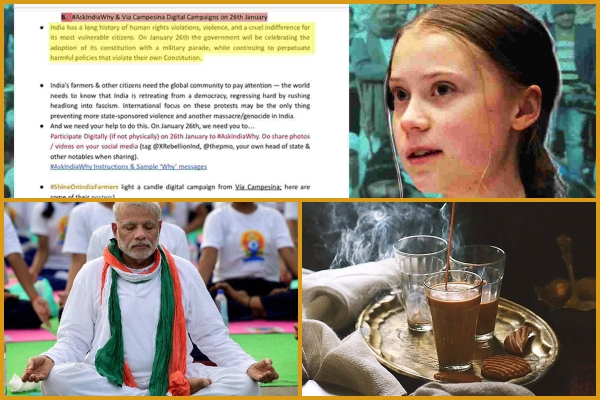 Every country has its own culture, and every culture has its strengths and weaknesses. The strengths gather admiration from other cultures, and thus are used for the society's progress. And it is the society that consciously tries to lose these weaknesses.
For a lot of years, India was and to some extent even today is recognised as an unclean country, the land of snakes, a land of beggars and what not. I would not say that all of this is false, but I would definitely say this is not all. India has so much more to it than this.
India - The Motherland of Yoga - is an identity which has come to light after countless, continuous and selfless efforts of the sadhakas i.e. practitioners. The idea that India can also be known for its cultural strengths is clearly annoying some people and I cannot see why.
We know that we have flaws, and and as a conscious society, we're working on it, and we'll keep working on it. But to demoralise us for something like this, and that too without there being any link between the protest and Yoga, is not acceptable.
I will not comment on the farmers' protest as I am not familiar with all of its aspects. All the other points in the toolkit might be valid, and even if the statement about Yoga and Chai is not illegal, it is unethical in the least.
And this is why, I question myself while raising this question, if it is right to judge their intentions by a single statement.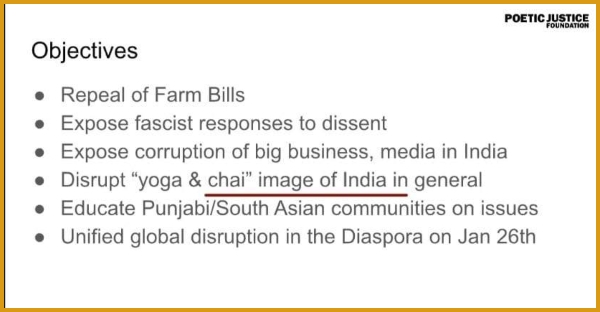 This makes me think that the next attempt to snatch our identity might be on Ayurveda.
But I have decided for myself. I will always strive to rectify the flaws in the social system as a part of this society. I will try to put forth the strengths of our culture, like Yoga and Ayurveda in their purest form with all the energy and enthusiasm that I can.
PS - There are more Chai (Tea) lovers in India than that of Yoga. The number of Starbucks franchises all over the world put together merely equal the number of tea stalls in Pune only. So to the makers of this toolkit, just keep an eye out for tea lovers!
.
.