"My name is Greta. I am from Sweden. There is no MSP system in Sweden, contract farming is done on very large scale and agriculture is fully controlled by private companies, our farmers are rich. Same rule adopted by Indian government, but I have to oppose. Sorry!"
This is what
Greta Thunberg
, who ideally should go to school at this age must be reading to her true self behind every single tweet that she has posted in support of the Indian farmers protest. "I still #StandWithFarmers and support their peaceful protest. No amount of hate, threats or violations of human rights will ever change that.
#FarmersProtest
", she tweeted.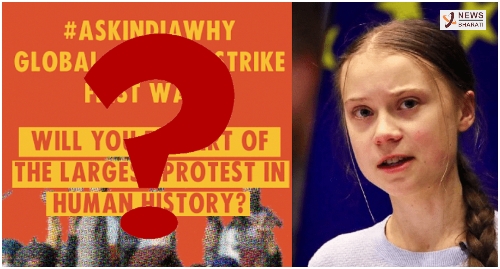 This is after the
Delhi Police
filed FIR against the tiny climate activist Greta for promoting enmity and acts prejudicial to maintenance of harmony. Taking to the Twitter handle yesterday internationally acclaimed singer Rihanna had shared an article by
CNN
that highlighted the Centre's crackdown on the farmers by cutting off internet services in many regions. Showing her solidarity, she said, "Why aren't we talking about this?!
#FarmersProtest
," along with a news article about the situation.
Following her, few hours later, this teenage
Swedish "activist"
began poking her nose in India's internal matters. "We stand in solidarity with the
#FarmersProtest
in India", she tweeted. This is not the first time that
Greta Thunberg
has passed comments on India's internal matter. Earlier to this, she had unnecessarily raised her voice against the NEET and JEE exams in 2020 saying "It's deeply unfair that students of India". Thunberg had tweeted, "It's deeply unfair that students of India are asked to sit national exams during the COVID-19 pandemic, and while millions have also been impacted by the extreme floods. I stand with their call to #PostponeJEE_NEETinCOVID."
To this, India on Wednesday said that resorting to sensationalist social media hashtags and comments, especially by celebrities and known public figures, is neither accurate nor responsible. The statement by the
Ministry of External Affairs (MEA)
was issued after several people from the international community came out in support of the farmers' protest against the Centre's new agriculture laws.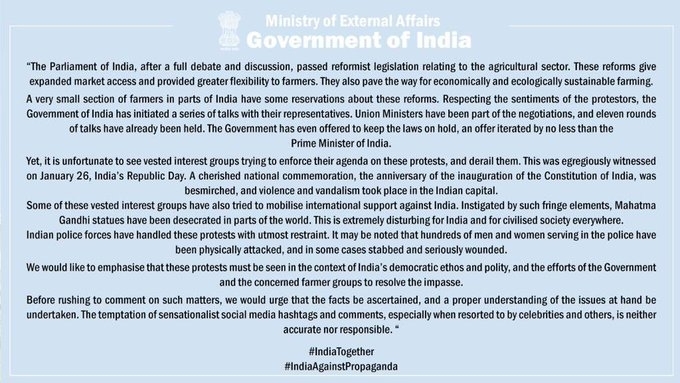 "The Parliament of India, after a full debate and discussion, passed reformist legislation relating to the agricultural sector. These reforms give expanded market access and provide greater flexibility to farmers. They also pave the way for economically and ecologically sustainable farming. A very small section of farmers in parts of India have some reservations about these reforms. Respecting the sentiments of the protestors, the Government of India has initiated a series of talks with their representatives. Union Ministers have been part of the negotiations, and eleven rounds of talks have already been held. The Government has even offered to keep the laws on hold, an offer iterated by no less than the Prime Minister of India," the
MEA
added.
.
.