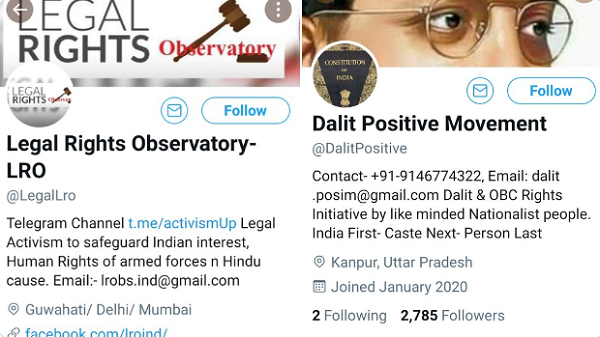 In a letter to the Ministry of Electronics and IT, the Kalinga Rights Forum had requested the office to issue orders to Twitter India to unblock handles of Legal Rights Observatory and Dalit Positive Movement as well as issue summons as it directly violates Article 19 of Indian Constitution. It had also demanded the office to consider banning Twitter operations in India. "Twitter has become detrimental to 'NATIONAL SECURITY' because of its support to Pro Terror groups", the email read.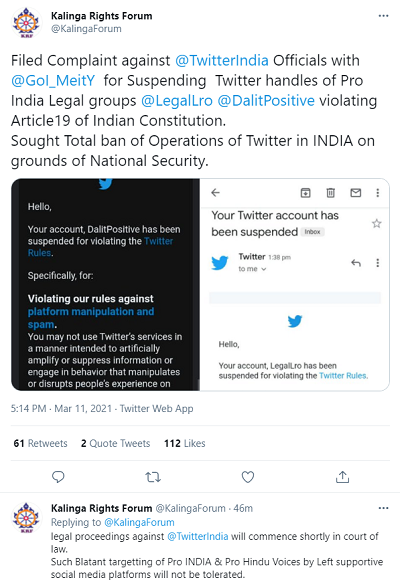 Twitter India has seemingly been on the forefront of suppressing and suspending Hindu voices but showing leniency to Anti India and Anti Indian Government elements. "Legal Rights Observatory and Dalit Positive Movement are both Hindu Human Rights Legal groups who fight for rights of Hindus and raise voice against adversaries of India legally. Thus Twitter India banning Hindu Human Rights legal groups Legal Rights Observatory and Dalit Positive Movement has endorsed its support to Anti India and terrorist groups who are working against India", it added.
Twitter India selectively imposes bans on Hindu Twitter accounts but supports and allows terrorist organisation handles
as per Research Papers and Internationally Acclaimed Journals.
It is on February 12 that a complaint in this regard has also been filed with Supreme court against Twitter for its sympathies to terrorist gropus.
ALSO READ- 'Hurting Hindu sentiments', LRPF writes to sub-collector seeking action against illegal Church construction
The petition said a mechanism or law needed to be put in place for social media accounts in order "to stop the hatred, fake, investigative and other news which are contrary to the law". 10% each of the 35 million Twitter handles and 350 million Facebook accounts in India are bogus. Hundreds of fake Twitter handles and Facebook accounts used the names, of constitutional authorities and eminent citizens. "Anti-national tweets should not just be deleted, but such accounts should be discontinued," it stated. They should used as proof that people have indulged in anti-national activities in India or abroad.
.