Bhubaneshwar, Mar 2: With not many people knowing what to do in the free time, a 10-year-old boy has rewritten the Indian epic Ramayana in Odia during the lockdown period. Hailing from Bhubaneshwar, Ayush Kumar Khuntia, wrote an entire epic on his own and termed it as 'Pilaka Ramayana'.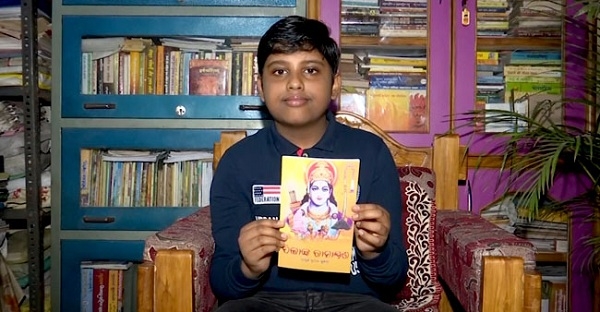 According to the reports, the book contains 104 pages and he got the inspiration after watching the television series of the epic. Ayush said, "During the lockdown in the month of March, I was asked to watch Ramayana episodes on television by my uncle, and later to write something on it".
He also said that he watched Ramayana telecasted on DD channel and then wrote each episode in Odia. Also, it took him two months to complete the book.
The fourth standard student said, "I have written several golden moments in Ramayana like Lord Ram leaving his home for 14 years in exile, and Devi Sita's abduction by Ravana from Panchavati forest. I also explained how people of Ayodhya welcomed Lord Ram after 14 years of exile". With this, he urged everybody to develop a habit of reading and how important it is to reach heights.
ALSO READ- #JaiShriRam also in Australia! A shop in Adelaide donates Rs 75,500 to Ram Mandir Nirman

Earlier, a 11-year-old, Bhavika Maheshwari has set a unique example of Ram Bhakti by reciting Bhagavad Gita along with schooling during lockdown. Belonging to Surat, she has collected about Rs 50 lakh by reciting 4 Ramkathas and donated the amount for construction of Ram Mandir