Mumbai, April 08:
Exposing the fake news plot put up by 'ABP Maza', one of the Marathi news channels, the
Legal Rights Observatory (LRO)
has on Thursday written to the ABP Group complaining against the channel and it's Executive Editor Rajeev Khandekar for spreading misinformation on COVID vaccine.
ABP Maza had on April 8 reported a news alleging that the Central Government had done injustice to Maharashtra by supplying only 7 lakh 40 thousand vaccine doses and giving more of them to the BJP ruled states like Gujarat and Uttar Pradesh. "56 per cent of the total COVID-19 patients in India are from Maharashtra and that from Uttar Pradesh are only 3 per cent. But Maharashtra gets 7,40,000 doses and Uttar Pradesh 44,00,000? This kind of bias is not at all acceptable",
Executive Editor Rajeev Khandekar tweeted.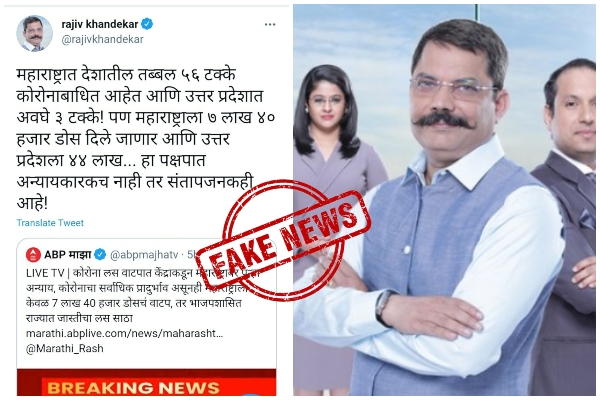 The letter by the LRO to the ABP Group reads, "ABP Maza has spread fake news on availability of COVID-19 vaccine provided by Union Health Ministry to Maharashtra. The channel on television as well as on social media gave factually incorrect information spreading fake news on Covid vaccine availability. Even Group Editor Rajeev Khandekar himself tweeted. The channel must appologise".
Also, it said that ABP Maza must broadcast corrigendum for 15 days on live television to clear the rumor spread by the channel. "Failing to do so we will launch legal action against ABP Group under Epidemic Diseases Act, 1897 and other relevant IPC and CrPC sections to punish ABP group editor along with Rajeev Khandekar", it added.
The news channel ABP Maza seems to have compared grass to a tree. When it says, "the state of Maharashtra has got only 7.40 lakhs doses", it is as on April 8, today. But when it says the state of Uttar Pradesh has been provided with 44 lakhs of COVID-19 vaccines, it probably is considering the total till date.
ALSO READ- Remdesivir to be available only in Covid hospitals, stores attached with hospitals
Central Government clarified that it has sent 1.07 Cr vaccine doses to Maharashtra (as mentioned in official State Govt tweet from DGIPR on 6thApril) contrary to claims made by ABP Maza which says only 7 lakh doses provided to state by Union Health Ministry. BJP leader Devendra Fadnavis also in a series of tweet mentioned that 91 lakh vaccines have been used by the state which means 15 lakh are still left with GoM. "So why are vaccination centres deliberately shut down today & why peltering of false news?", he added.
As per the Union Ministry of Health
, the active COVID-19 cases in the state of Maharashtra as on April 8 stands 5,02,982 and the vaccines recieved by the state today is 7.40 lakhs. Maharashtra Health Minister Rajesh Tope has said that the supply is inadequate to meet the state's demand and has requested Union Health Minister Dr. Harsh Vardhan to provide 40 lakh doses per week. No such information regarding the state of Uttar Pradesh has been confirmed by the Union Ministry.
.
.