The story of Sri Ram, the Prince of Ayodhya and the seventh incarnation of Vishnu the Sustainer of the Universe, was first told by Sage Valmiki. But then it did not remain exclusive to him as it was rendered in different colloquial, vernacular languages and dialects by different poets and writers in different times and different geographical areas and social milieu. They made certain changes to the original draft commensurate with the social and religious situations and customs in vogue during their respective periods in their societies and communities. Thus, there exist around 300 versions of Ramayana in various parts of India and other Asian countries; Valmiki's Ramayana being the oldest and the first.
Here is the list of different versions of Ramayana:
1. The Tamil 'Kamba Ramayana' also known as Ramavataram, composed by poet Kambar in the 12th century.
2. The Kannada 'Kumudendu Ramayana' written in the 13th century and another 'Kumara Valmiki Torave' written in the 16th century. There is another version Ramachandra Charita Purana written by Nagachandra in the 13th century.
3. The Assamese 'Katha Ramayana' or 'Kotha Ramayana' in 14th century by Madhav Kandali
4. The Bengali 'Krittivasi Ramayana' written by Krittivas Ojha in the 15th century.
5. In Goa, it is the 'Ramayanu' written by Krishnadasa in Konkani in the 15th century.
6. The Awadhi 'Ramcharitmanas' composed by Goswami Tulsidas in the 16th century.
7. The Oriya 'Dandi Ramayana' or 'Jagamohan Ramayana' adapted by Balaram Das in the 16th century.
8. In Kerala, it is the Malayalam 'Adhyatma Ramayanam Kilipattu' written by Thunchaththu Ezhuthachan in the 16th century.
9. In Maharastra, it is the Marathi 'Bhavartha Ramayana' written by Sant Eknath in the 16th Century.
10. The 'Tulsi Krita Ramayana' is a Gujrati adaptation of Tulsidas' Ramcharitmanas in the 17th Century written by poet Premanand Swami.
11. Urdu version called the 'Pothi Ramayan' written in the 17th century.
12. In Punjab, it is the 'Ramavatara' written in the 17th century by Guru Govind Singh.
13. The Kashmiri 'Ramavatara charita' written in the 19th century.
14. 'Sri Ranganatha Ramayanamu' was adapted by Buddha Reddy and is the Telegu version of Ramayana.
15. In Maithili language, Chanda Jha and Lal Das wrote 'Mithilabhasa Ramayana' and 'Rameshwarcharit Ramayana' respectively.
16. Jain version of the epic can be found in the various Jain agamas like 'Padmapurana', which is the story of Padmaja being Sita and Rama. (Source: Google)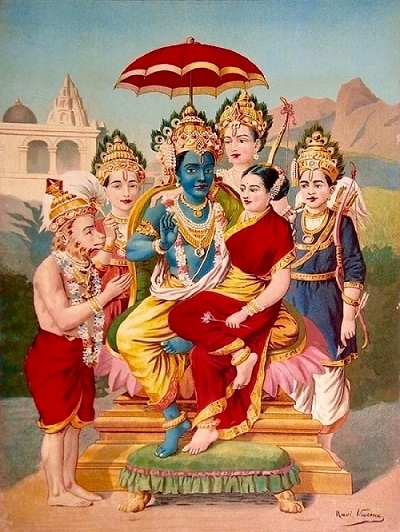 Each of these versions has its own beauty, narration style, logic and message. Besides these, there are still many more versions of Sri Rama's story found in various 'janjati' communities living in the forests and hills of India. The influence and impact of the great epic Ramayana upon the peoples of Northeast India including Assamese is unbelievable. The influence is visible in their language, literature and culture.
The story of Sri Ram was known to the people of Assam since early days. Two copper plate inscriptions dating back to 7th century mention about Ram, Dasharath and Janak. The Kalika Purana believed to have been written in 10th-11th century contains elaborate references to various episodes of Ramayana endorsing the presence of the story of Sri Ram in Assam.
Credit goes to Madhav Kandali, an Assamese poet to bring the original Valmiki Ramayana into Assamese language in 14th century. The Kamba Ramayana in Tamil language was composed by poet Kamban in 12th century. But Madhav Kandali's 'Saptakanda Ramayana' happens to be the first to be rendered in the Indo-Aryan language followed by Krittibas Ojha's Bangla Ramayana in Bengali (15th century) and Sri Ramcharit Manas by Goswami Tulsidasji in 16th century. Thus, Assam became the first state in the northeast India to possess the first rendition of the Valmiki Ramayana in Assamese language.
There has been a surge of scriptures and writings based on the story of Sri Ram in various fields of literature and arts. Assam possesses a very rich Ramayana tradition –oral and written – saved in the treasure of visual and performing arts, writings and folklores. Besides the 'Saptakanda Ramayana' of Madhav Kandali, Assam has a huge stock of literature based on Ramayana available in the form of texts, poetry, drama, songs and theme-based lyrics.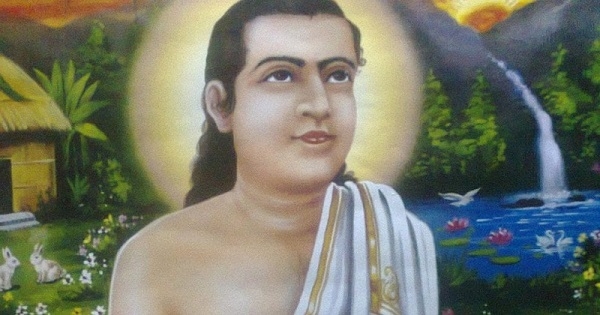 Among the major Ramayana texts in Assamese other than Madhav Kandali's Ramayana are: Ananta Kandali's Ramayana, a Vaishnava adaptation of Madhav Kandali's work; Durgabar Kayastha's 'Geeti Ramayana' which is a musical rendition of Kandali Ramayana. It has 60 songs set to 23 ragas and descriptive verses like Marathi 'Geet Ramayana' of late Ga. Di. Madgulkar.
Ananta Dasa composed Sriram Kirtana in 17th century. Raghunath Mahanta wrote 'Katha Ramayana' in the 18th century and this happens to be the first prose rendition of Ramayana. In addition there are numerous 'Kavya' based on Ramayana such as Harihar Bipra's 'Lav-Kushar Yuddha' (14th century), Ananta Kandali's 'Mahiraban Badh' (16th century), Ramasaraswati's 'Lakshmanar Shaktishel' (17th century), Raghunath Mahanta's 'Shatrunjaya Kavya' and 'Adbhut Ramayana' (18th century), Bhavadev Bipra's 'Nagaksha Yuddha', Dhnanjaya's 'Ganak Charitra' (18th century) Gangaram Das's 'Seetar Banabas' ( 18th or 19th century) , Dwij Panchanan's 'Patalikanda Ramayana'(18th or 19th century) , Bholanath Das's 'Seetaharan Kavya" (19th century), Durgaprasad Devasarma Phukan's 'Laban Doityabadh aru Laba- Kushar Janma Upakhyan' (20th century) etc.
The prominent plays based on Ramayana in Assamese include Sankardeva's 'Ramvijay Nat' (16th century), Madhadeva's 'Rambhavana Natak' (16th centiury), Lakshmideva's Raban Badh Natak', Purnakanta's 'Lankadahan', Biswambhardeva's 'Seetaharan Balibadh', Bhadradeva's 'Seetaharan' (18th or 19th century) and Atul Chandra Hazarika's 'Seeta' and 'Ramchandra' (20th century).
Among these regional versions of Ramayana, Madhav Kandali's "Saptakanda Ramayana" in Assamese language happens to be first to be retold in any regional language in East India. This Assamese Ramayana was composed in the 14th Century while Tulsidas composed his famous 'Sriram Charit Manas' in the 16th Century and Krittivas Ojha wrote his Bangla Ramayana in the 15th Century. Madhav Kandali's Ramayana comes a century before them.
It was the Kachhari King Mahamanikya or Mahamanikpha who ruled Assam from 1411 to 1436 AD, asked poet Madhav Kandali to compose the story of Sri Ram. Conceding to the King's instructions Madhav Kandali composed his Ramayana based on the original Valmiki Ramayana giving some local touches so that it attracted the attention of the king and his subjects.
The Ramayana of Madhav Kandali had only five cantos initially. Madhavdeva added the 'Adi Kanda' a century later obeying his 'Guru' Srimant Sankardeva's instructions. Srimant Sankardeva himself inserted the 'Uttara Kand' during the same period. This addition made the original work to be known as 'Saptakand Ramayana' and it was considered as the glory of the Assamese literature. The Ramayana is most popular in the Assamese society mostly due to its language, style, meter, rhythm and description of events and personalities. Madhav Kandali is simply unparallel in these aspects.
Kachhari King Mahamanikya's exhortation prompted Madhav Kandali to write this 'Saptakanda Ramayana'. Kandali narrates this in his lucid style:
Kavirāj Kandali ye āmākese buliwāyā kariloho sarvajana bodhe.
Ramayana supa yara, Shri Mahamanike ye, Baraha Rajar anurudhe.
Sat kanda Ramayana padabandhe nibandhilo lambha parihari sarodhrite.
Mahamanikyoro bolo kavyarasa kicho dilon dugdhak mathilo yena ghrite
Pandit lokar yebe asantosa upajaya hat yore bolon shudha bak
Pustak bichari yebe taite katha napawaha tebe sabe nindiba amak.
The Ramayana composed by Madhav Kandali is known as 'Saptakanda Ramayana' as it was divided into seven cantos. Earlier, Tamil poet Kamban translated the Ramayana into Tamil Language in 12th Century. Madhav Kandali's "Saptaknada Ramayana" is considered as second translation of Sanskrit version of Ramayana into a modern Indian language. But it happens to be the first rendering of Ramayana in any Indo-Aryan language, besides being accepted as the earliest written examples of Assamese language.
Madhav Kandali laid emphasis more on human virtues of Sri Ram, Sita and other characters in his 'Saptakanda Ramayana'. He adapted his composition to the likings of the common masses with an intention to make it more popular. Central characters of Sri Ram and Sita are portrayed as human beings with astonishing qualities and human weaknesses. In Valmiki Ramayana, Sri Ram also mentions about his being a human being on a number of occasions.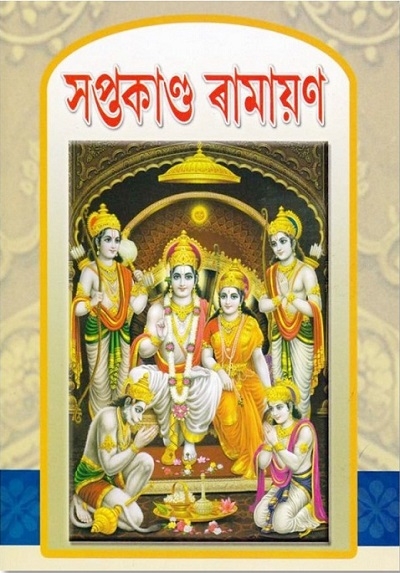 It would be in place to call Madhav Kandali's Ramayana as historical description and not as a 'Bhakti-Kavya'. Words like 'Krishna', 'Hari' are amply used by Madhav Kandali and other Assamese Ramayana versions to describe the personality of Sri Ram and this is mainly due to the influence of 'Krishna Bhakti or Vaishanava Movement in Assam and Bengal. This portraying of Sri Ram and Sita and other characters as human beings, has rendered the work of Madhav Kandali unsuitable for religious purposes. It also invited criticism from later day poets like Anant Kandali.
Though it is known as 'Saptakanda Ramayana' the 'Adi' (First) and the 'Uttara' (Last) kand (cantos) in Kandali's Ramayana were lost. They were later inserted by Vaishnva Saint Srimant Sankardeva and his disciple Madhavdeva in the 16th Century. Sankardeva writes about Madhav Kandali:
Purvakavi apramadi Madhav Kandali adi pade virachila Rama Katha
Hastira dekhiya lada sasa yena phure marga mora bhaila tenhaya avastha.
(Earlier Madhav Kandali composed the story of Rama effortlessly. Small animals like rabbits get stunned looking at huge elephant; I too had the same experience while traversing through his work.)
Some other additions were made by Ananta Kandali (16th century) and others.
This work has cast a strong influence on Srimanta Sankardeva, and also later Assamese works. A later Karbi Ramayana was also influenced by this work. Besides, Madhav Kandali's Ramayana, Srimanta Sankardeva's 'Ram Vijay' needs mention in the discussion on Ramayana tradition in the northeast India. A great saint, scholar,socio-cultural and religious reformer Srimanta Sankardeva was born in Borduwa or Batadrawa in Nagaon district of Assam. He was instrumental in spreading the Vaishnava sect and Bhakti movement in Assam. He wrote and translated religious texts with authority in Sanskrit, Assamese and Brajavali.
Srimanta Sankardeva's major literary compositions are 'Kirton Ghosa', 'Gunamala', 'Borgeet' (Noble Songs) and 'Ankiya Naat', the latter being developed in accordance with the Natyashastra. The plays were written in a language called Brajavali which is a mix of Assamese and Maithili. Mahapurush Sankardev died in 1568 at the age of 120 in Cooch Behar. He is also instrumental in setting up the institution call 'Satra' and 'Namghars' in Assam which acted as centers of learning and mainstay of Vaishnava movement in the entire northeast India. It was here in these satras, the traditional form of 'Bhaona' and 'Ankiya Naat' was born and developed to be the main folk tradition of Assam.
Bhaona is a traditional form of entertainment which disseminated a religious message to the audience. The Bhaona was created by Srimanta Sankardeva around early 16th century.Bhaona is normally staged at 'Satras' and 'Namghars'. Use of live instruments, singers, dancers and costumes is common. The play begins with a 'Poorvaranga'. After this the 'Sutradhar' appears on the stage and then the actual performance begins. The Ram Bijoy or Ram Vijaya by Srimanta Sankardeva falls in the category of 'Ankiya Naat'. This play is centered on Sri Ram's bravery at the court of King Janaka of Mithila where he breaks the 'Shiv Dhanushya' and weds Sita, the daughter of King Janaka.
As Sage Valmiki narrated in his Ramayana, King Janaka, the King of Mithila, promises to marry his daughter Sita to anyone who could lift and string the bow of Lord Shiva. There were number of kings who had come to try their luck but could not. Finally Ramachandra lifts the bow, and while putting a string to it, breaks the same with a thunderous sound. As promised Janaka gives Sita in marriage to Ram and three of his daughters to Ram's brothers Laskhmana, Bharata and Shtrughana. The same story is rendered in Srimanta Sankardeva's 'Ram Bijoy' or 'Ram Vijay' play.