Jabalpur, May 04: Dada Virendra Puri Eye Institute Devji Nethralaya, Charagwan Marg, Tilwara will now be able to serve the patients infected with the corona virus. This being the first of its kind of incident in Jabalpur, it is informed that 10 per cent of the total beds have been reserved for media workers and their families in this center. With this the media personnel have breathed a sigh of relief amidst the second wave of COVID-19.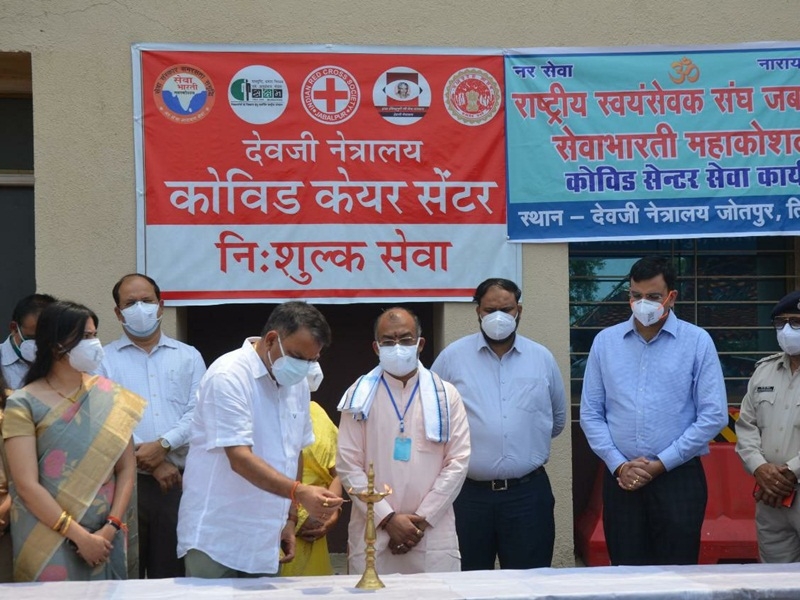 The center was inaugurated in the presence of Mahakoshal Prant Pracharak Praveen Gupta, Seva Bharati's Mantri Mahesh, Collector Karmaveer Sharma, Superintendent of Police Siddharth Bahuguna, Regional Joint Director Dr Sanjay Mishra and philanthropist Dr. Pawan Sthapak.
During the Corona era, all institutions should come forward to protect the lives of patients. Seven ventilators, oxygen beds, ICU facilities will be provided to patients in 200 bed covid care centers", said Praveen Gupta while Dr Pawan Sthapak informed that with the spirit of service, Kovid Care Center has been launched in Devji Nethralaya. "Here, oxygen, ICU, ventilators, specialists, medical officers and nursing staff will serve patients in 200 bedded Kovid Ward, working with service" Dr Sthapak said adding that media workers act as the fourth pillar of the society, so it is our responsibility to take special care of their convenience.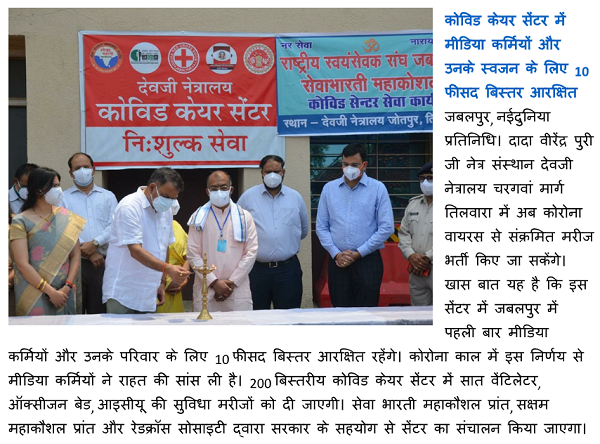 It is further informed that the patients will not be charged for hospitalization but will have to bear the expenses of CT scan, pathology examination and medicines at Dada Virendra Puri Eye Institute Devji Nethralaya COVID care Centre. The sequence of recruitment of patients will start from Monday in presence of Dr Shaleen, Dr Praveen, Pradeep Tiwari, Ashish Dixit, Ravi Chauhan, Dr Arvind Sahu, Ajit Dubey, Dr Arpita Sthapak, Anupama Sthapak, Arvind Dubey, Dr Ankit Pandey, Vasu Shukla, Dr Praveen Agnihotri, the statement informed.
For decades considered to be working behind thick veils of alacrity and strong will to serve the nation, the Rashtriya Swayamsevak Sangh (RSS) has lately found itself more in the centre of public attention. While all of the liberals, pseudo-secularists and leftists are resting in their houses, RSS is on ground to coordinate with the govt. The selfless work of RSS volunteers during natural disaster is unparalleled. What is more admirable is that they do not discriminate based on caste creed or religion. Newsbharati salutes RSS seva amid COVID outbreak!
.
.