Mukul Roy and his son Subhranshu officially rejoined the Trinamool Congress on Friday, putting an end to the speculation. Roy, who was one of the first frontline TMC leaders to shift to the BJP nearly four years ago, has today returned to Trinamool, the party with which he has been linked since its inception. Roy was a key figure in the BJP's campaign for the Bengal assembly elections, which were held recently.
Well, this clearly shows how disorganised, directionless are the minds of such people who commit to support the move of getting democracy in the state and then join back the blatant roots post elections. Thinking seriously of what exactly made Roy take this decision, it may remind us of the Ajit Pawar episode and that what he did to BJP's
Devendra Fadnavis in 2019 Maharashtra state elections. Anyway!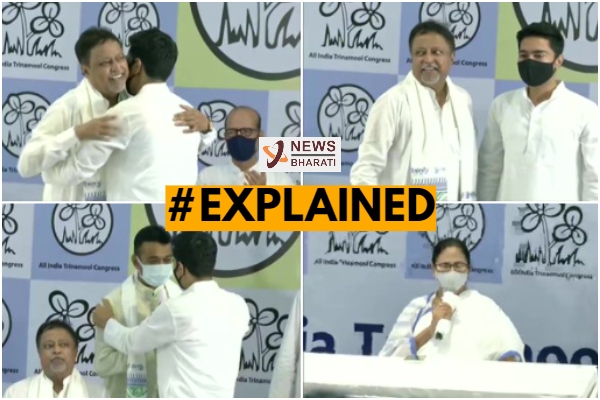 Political Suicide this is, nothing else! Mukul Roy in fact was never a public leader to say. And as the demographics show, politics in the state of West Bengal is a bit difficult to be controlled from the AC rooms. "His time in politics is up. Nobody trusted him. Everybody believed that he provided internal information of BJP to TMC. If rivals get to know your planning, it gradually causes you loss", says Arjun Singh, WB BJP vice-pres.
Opportunists in politics do such things they say! Back in year 2017, there was a rift between Abhishek Banerjee and Roy which forced Roy to join hands with BJP. "He'll still keep coming and going. He won an election for the first time, that too on BJP's symbol", he added commenting on Roy's pre-estimated move today. Another point and significant one to focus upon is what made Roy change the seat and say "in the present circumstances, no one will stay in Bharatiya Janata Party". What does this mean? Did Mamata Didi scare him of something? Was he afraid of the Bengal Violence that is specifically targeted towards the BJP leaders, party workers and their family members? "BJP suffocates", these words of him actually don't justify his move but it does definitely showcase the violence terror.
Thousands of BJP members and Hindus in the state of West Bengal are being persecuted, they are forced to leave their residences, they are being brutally killed, women are being molested. Instead of standing by the party in times of need, Mukul Roy's exit is anything but a stamp of unease on his own political career.
The HISTORY-
The 67 year old is arguably one of the most important political figures in West Bengal after Banerjee, at least for the past decade and a half. Beginning his political career from the Youth Congress, Roy co-founded the Trinamool Congress with Mamata Banerjee in 1998, became her lieutenant, worked towards a stunning TMC win in 2011 against the Left, and retained power in the next term as well.
Such was his influence that after Mamata Banerjee, the Trinamool Congress pressured the Congress-led UPA government to drop Dinesh Trivedi and appoint Mukul Roy as Union Railways Minister in 2012. In those years, if Banerjee was the emotional fountainhead of the party, and its undisputed leader, it was Roy who controlled the cadres, knew party members in every block of the state, and kept the organisation running. However, in 2015, the two fell out after Roy was named in the scams, and in a move that would have deep repercussions in Bengal politics then, he joined the BJP in November 2017.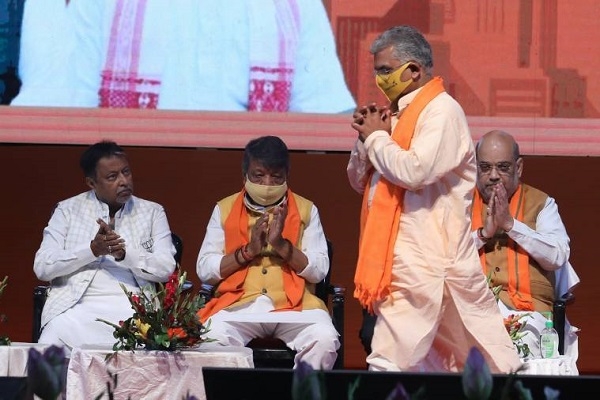 When he joined the BJP, Roy brought with him all his administrative and political nous of Bengal. It was around that time that the party began looking seriously at building its base and expanding in West Bengal. BJP general secretary Kailash Vijayvargiya used Roy's organisational skills as well as a widespread and deep-rooted network in the state to raise the BJP as a force.
Roy's absence to make NO DIFFERENCE to BJP-
As mentioned before, Roy was a key figure in the BJP's campaign for the Bengal assembly elections, which were held recently. But during the heated campaign with the TMC, Roy seemed to take a backseat, with BJP state president Dilip Ghosh and newly inducted Suvendu Adhikari taking all the political space, the latter fighting a pitched battle with Chief Minister Mamata Banerjee in Nandigram. After the elections, Banerjee also showed signs of softening towards Roy, drawing a difference between him and Adhikari.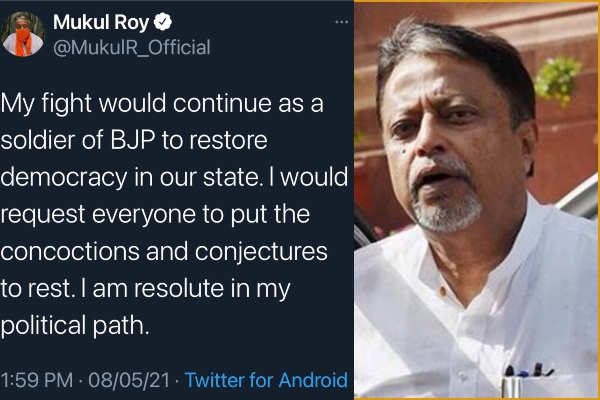 Immediately after the election results, there were further signs of a fallout between the BJP and Roy, after he did not attend at least two meetings, leading to intense speculation. On May 8, however, besieged by these questions, Roy had tweeted his continued allegiance to the BJP, saying, "My fight would continue as a soldier of BJP to restore democracy in our state. I would request everyone to put the concoctions and conjectures to rest. I am resolute in my political path." A little over a month later that is no longer true.
IN the CONCLUSION-
Mamata Banerjee however has welcomed Mukul back to the TMC, saying that while campaigning for the BJP, Roy had said nothing negative about Trinamool and that threats of action from central agencies were used to get him to join the BJP. For the BJP, this is now a crucial time, in terms of its political future in the state. Already, the state unit of the BJP is suffering of a violent reprisal from TMC cadres across the state after the latter's emphatic win. It remains to be seen now how many of the BJP members are threatened to position in the state of West Bengal and are forced to be the part of this political 'Khela'.
.
.