New Delhi, June 11: Ahead of the crucial Uttar Pradesh assembly election 2022, Uttar Pradesh Chief Minister Yogi Adityanath who is on a two-day visit to Delhi, met Prime Minister Narendra Modi at the 7 Lok Kalyan Marg residence on Friday.
The meeting at PM Modi's residence lasted for more than an hour. According to the reports, they discuss issues related to cabinet expansion and the upcoming state assembly elections. Apart from it Yogi also apprise him about the political situation in the state and steps taken to control the second wave of the Covid pandemic.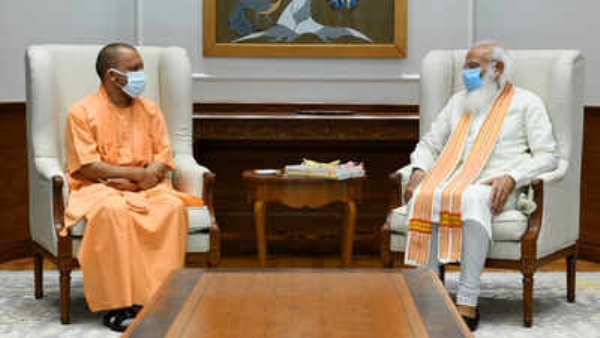 Taking to Twitter, Adityanath stated that he had the opportunity to meet PM Modi and receive his guidance. The Uttar Pradesh CM also expressed his gratitude to PM Modi. The Prime Minister's Office (PMO) also posted a photo of PM Modi and Yogi Adityanath on Twitter as they met.
UP CM Adityanath's two-day visit to the national capital also comes amid when there are lots of speculations are surfacing regarding changes in the Uttar Pradesh Cabinet and the party structure ahead of the 2022 Assembly Elections.
After the meeting the PM Modi, Yogi Adityanath also met BJP chief JP Nadda at his residence where he held discussions for nearly 1.5 hours.
Yesterday, Yogi also held talks with Union Home Minister Amit Shah on Thursday Yogi Adityanath also presented a book to Amit Shah during his meeting. Former Union Minister and Apna Dal Chief Anupriya Patel had joined the deliberation between Shah and Adityanath. During the meeting, Shah and Yogi also discussed BJP's performance in recent panchayat polls was and it was decided to focus on electing its members as 'Zila Panchayat Adhyaksh'.
This visit also has come just 2 days after senior Congress leader Jitin Prasada joined BJP at the party headquarters in the presence of Union Commerce Minister Piyush Goyal on Wednesday. Prasada's entry into the BJP is also being seen as a means to strengthen its position in Uttar Pradesh ahead of the elections next year.
.
.