Promoting its anti Hindu tactics again, the DMK government in the state of Tamil Nadu has again made statements that go against the Hindu traditions and rituals. DMK Stalin government's P K Sekar Babu Minister of Hindu Religious Charitable Endowments (HR&CE) controlling more than 30,000 ancient Hindu Temples in Tamil Nadu, made grandstanding statements on June 12 while speaking to reporters, by stating that his government is going to invite applications from women for the vacancies of 'archakas' (Priests) in the ancient Hindu Temples under HR&CE.
He also said that Tamil Nadu government is going to train women from all communities to become archakas in temples. Moreover PK Sekar Babu revived the favourite game of undermining Hindu rituals and traditions by trying to pit Sanskrit against Tamil, by imposing poojas, archanas and shlokas to be recited in Tamil in ancient Hindu Temples instead of Snaskrit in as is the practice and norm in Sanatan Dharma across all regions.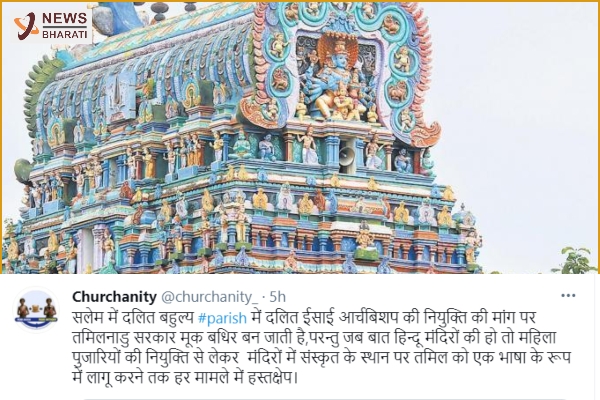 While the Stalin government and its Minister, Sekar Babu wants to bring in these so-called reforms in ancient Hindu temples of appointing Dalit archakas and women archakas of DMK's choice without necessary training and expertise in Vedic shastras and Agamas by breaking the centuries old tradition of appointing dedicated hereditary archakas and odhuvars in temples .
The same DMK government turns a blind eye to a huge protest against appointment of a non-Dalit Archbishop for Salem by the Vatican despite a demand for a Dalit Christian Archbishop for a Dalit Christian dominated parish in Salem. We can neither hear the mainstream media nor the so-called Dalit champions from DMK party like MK Stalin or Kanimozhi or PK Sekar Babu outraging about not having Dalits in senior positions in Church.
How about appointing women Archbishops and Maulvis in churches and mosques? And what about conducting Namaaz in Tamil by junking Namaaz verses in Arabic? Forget appointing women Maulvis in mosques, would the MK Stalin DMK government have the guts to make all the mosques in Tamil Nadu open for women? While Kanimozhi was very voluble about women from the age of 10-50 to be allowed entry in Sabarimalai Temple in Kerala, she does not dare to even breathe a word about Muslim women being banned from going to all mosques following Islamic traditions.
The Stalin government and SK Sekar Babu will do well if they concentrate on vacating all illegal encroachers,including their own party men, from 47000 acres of Temple lands in Tamil Nadu as ordered by the Madras High Court on 8th June, 2021 rather than trying to impose their diktats on traditional ancient temples more than 2000 years old.
The DMK party can build their own temples with their party money and implement their ideas of worship in their private temples rather than poke their anti-Hindu nose in religious affairs of Hindus. Their hypocrisy of letting Christian and Muslim religious establishments carry on with their anti-women, anti-Dalit discriminatory practices only exposes their hollowness of so-called 'rational and liberal' ideals. (Story inspired from Kreatly.com)
.
.