"The Hindutva narrative paints Birsa Munda as a saviour of 'Hindus' and 'Hindu culture' against attack from the Christian missionaries. For the Hindutva movement, Birsa Munda is an icon only because he and his followers attacked missionaries and the church. But this is not only a deliberate misreading of history but also a willful deception on the part of Hindutva politics with a dual objective of denying the tribal communities of their distinct identity and also attacking the right to choose religion",
the article read.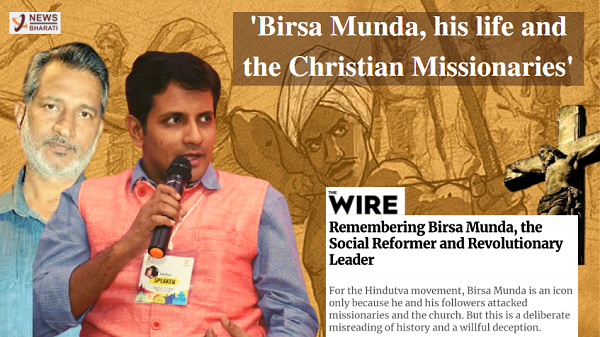 "It is true that Birsa Munda attacked Christian missionaries. But these attacks had nothing to do with safeguarding or protecting Hinduism. On the contrary, the attacks – both verbal and physical – signified the emergence of a distinct identity consciousness among the Mundas of Chhotanagpur plateau and other tribal communities who were facing continuous attacks from outsiders, including the Christian missionaries", it blatantly added.
Rubbishing word to word in the note,
BJP leader and Author Tuhin Sinha said
that contribution of Bhagwan Birsa Munda to the society is immense and it has to be awarded come what may. "The claims made by the Wire are dross. Bhagwan Birsa Munda's revolution against the Britishers and the Christian Missionaries bought vigour to the lives of Adivasis living in the areas of Jharkhand, Madhya Pradesh, Chhattisgarh. Bhagwan Birsa Munda's mentor in the early 1890s after he shunned Christinaity and walked out the Chaibasa Missionary school, was a Vaishnavite preacher, Anand Panrai. It was the time spent with this preacher, who employed learnings from Bhagwad Gita and generously quoted anecdotes from the Ramayan and Mahabharat, that led to a spiritual transformation in Birsa, evident and documented from 1894 onwards.
At no point in Bhagwan Birsa Munda's life is there any definitive antipathy towards Hinduism
", he said.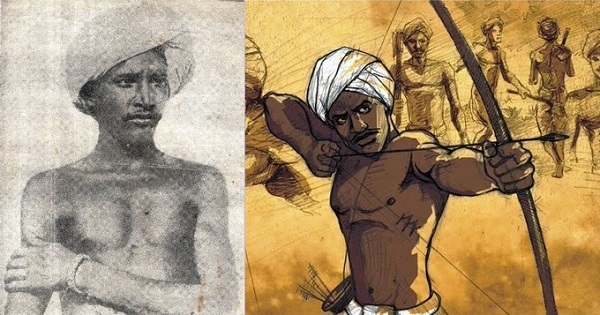 Meanwhile Ashok Sharan, Producer, Director in an exclusive interview to Newsbharati said that people giving false angles to life of Birsa Munda must visit the areas he resided in, feel the spirit and then comment. "Bhagwan Birsa Munda was never a christian. He initiated into the Birsait religion to fight against the Christian Missionaries. The article seems to be politically motivated indirectly saying that Adivasis are different from Sanatan Dharma, hence, spreading lies", he added. Ashok Sharan has till date produced more than 150 documentries, films on tribal culture in India. Ulgulan-ek-Kranti, the film on life of Birsa Munda produced, directed by him stands a highlight.
Earlier, Tuhin Sinha had also slammed
Jharkhand CM's divide-and-rule Adivasi politics statement where Hemant Soren had said that Adivasis were never Hindus and would never be.
But does Hinduism not worship nature? The Sun god, known as Surya Dev, is worshipped in umpteen forms, apart from the Chatth festival that is dedicated entirely to the god. The Sun temple in Konark, Odisha is one of the most important religious destinations in the eastern part of the country. A replica of this temple, situated in the tribal heartland of Bundu, 40 km from Ranchi, draws Hindus and tribes alike, in droves", he had said.
Giving further instances, Sinha says, "No Hindu ritual is complete without the river. The importance of a holy dip in the Ganges, among other rivers, for purification of the body and soul can't be underscored enough. Similarly, there are many other Hindu festivals celebrated in three different parts of the country that celebrate nature".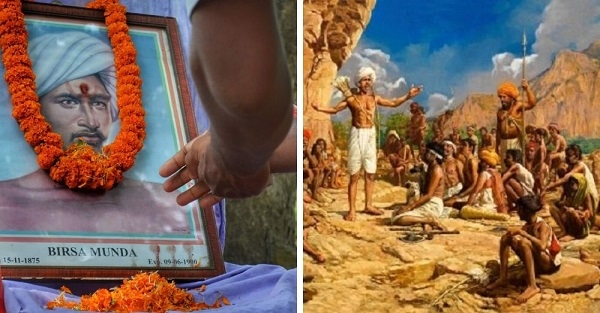 In 1895, while Birsa initiated a religious movement that came to be known as Birsait, his rebellion was focused against the 'dikus' or oppressors/encroachers who were Christian missionaries and landowners. In fact, a good chunk of those who joined his religious movement were Munda sardars who had previously converted to Christianity. Birsa, in his teachings, drew from all three, Hinduism, Christianity and Mundari. He continued to quote from the Ramayana and Mahabharata to his followers, while his tirade was directed against the church, which is evident in the trail of destruction witnessed in the armed revolution starting December 1999.
The young tribal revolutionary's life and legacy continue to be celebrated even today, particularly in the tribal regions of Bihar, Jharkhand and even parts of Karnataka and Odisha. Two Hindi movies 'Ulgulan – Ek Kranti' (2004), Produced, Directed by Ashok Sharan ji and Gandhi Se Pehle Gandhi (2008) are based on his life. The latter is directed by Iqbal Durrani, based on his novel with the same name. Birsa's life was driven by poverty, but he still set a powerful example for the youth to emulate by giving more to society than what is taken. His contribution to modern India is significant, but unfortunately has been relegated to the background in today's times.
.
.