Pune, June 08: In a very tragic incident, 18 workers died in a fire that broke out in the private company at Urawade near Pirangut industrial area in Mulshi taluka of Pune district on Monday afternoon. The factory where the incident took place manufactures chlorine dioxide tablets for water purification.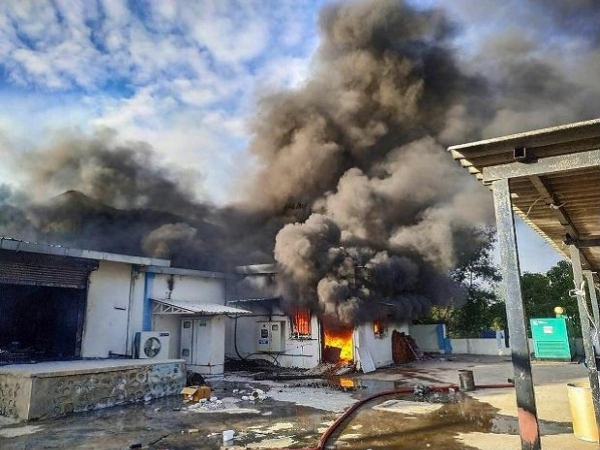 Pune Metropolitan Region Development Authority (PMRDA) fire chief Devendra Potphode, "We have so far recovered 18 bodies. We are still searching if anyone is still inside." He further told that 37 workers were inside the factory when the fire broke out. According to the officials, most of the victims were women, a total of 15 women and 3 people died in the incident. All the victims are from nearby localities. Pune Police said some of the bodies recovered from the site were charred and they were trying to identify all the deceased.
Police informed that the fire was reported at around 5 pm, following which, at least six fire tenders were sent to the plant of SVS Aqua Technologies in the Pirangut MIDC area in Mulshi tehsil to douse the flames. After getting the information about the incident, Pune District Collector Rajesh Deshmukh and senior police officers visited the incident site later.
Inquiry committee formed
Deshmukh has ordered an inquiry into the fire accident. He has instituted an inquiry committee under the sub-divisional magistrate, Maval, with fire officers and police officials as members, to determine the cause of the fire.
He said, "I have ordered an inquiry into the fire tragedy. Sub-divisional magistrate of Maval will head the committee, which will have officials from industrial safety unit of MIDC and fire brigade under PMRDA."
PM express grief
Prime Minister Narendra Modi expressed grief over the tragedy and offered his condolence to the families of those killed in the massive fire.
PM Modi has announced an ex-gratia of Rs. 2 lakhs each from the Prime Minister's National Relief Fund (PMNRF) for the next of kin of those who have lost their lives due to the fire. And, an amount of Rs. 50,000 would be provided to those injured, said the Prime Minister's office.
Apart from PM Modi, Deputy Chief Minister Ajit Pawar has announced assistance of Rs 5 lakh for the families of those who died in the fire.
"The district collector has ordered an inquiry. Police have lodged an offense. Responsibility will be fixed on the basis of the inquiry report. Priority is being given to bring the fire situation under complete control and provide treatment to the injured," said Pawar in a statement.
.
.