Agra, Sept1 0: At Bilsarh locality in UP's Etah, the Archaeological Survey of India (ASI) discovered the remnants of an ancient temple dating back to the 5th century CE, the Gupta period, during regular scrubbing.
The stairway, which was discovered last month, includes Shankhalipi inscriptions that state 'Sri Mahendraditya,' the title of the Gupta emperor Kumaragupta I, who ruled over what is now north-central India for 40 years in the 5th century CE, according to the ASI.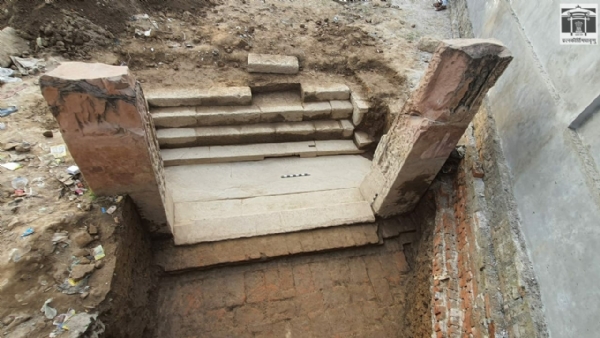 Bilsarh has been a protected site since 1928, and it was formerly considered a significant Gupta era site. "There were two ornamental pillars (at the location) that were near to one other and had human sculptures on them (found earlier). We dug further to learn more about their importance and discovered the steps "Vasant Swarnkar, the ASI's Agra circle's superintending archaeologist, agreed. "In Shankhalipi, we discovered something inscribed on it. It was decoded as 'Sri Mahendraditya,' which was the title of the Gupta dynasty's Kumaragupta I." Shankhalipi is an elaborate, stylized ancient script that was employed for names and signatures between the 4th and 8th century CE.
The writing discovered on the Etah skeletons has previously been discovered on a horse statue in Lakhimpur Kheri. It is presently on display in Lucknow's State Museum. But that wasn't enough to convince me. As a result, Swarnkar forwarded photographs of the inscriptions to Dr. Devendra Handa, a renowned epigraphist. At the same time, ASI officials travelled to Lucknow to re-examine the inscription on the horse statue. Shankhalipi was, in fact, Shankhalipi, according to both of them. The bones were dated to Kumaragupta 1's reign because of the inscription.
The Etah ruins are just the third Gupta era structure temple discovered so far. For Brahminical, Buddhist, and Jain followers, the Guptas were the first to construct structural temples. Prior to then, only rock-cut temples had been constructed "Professor Manvendra Pundhir of the history department at Aligarh Muslim University agreed. "Only two structural temples have been discovered before this: Dashavatara Temple in Deogarh and Bhitargaon Temple in Kanpur Dehat.
The Etah pillars are well-sculpted, far superior to earlier versions that were simply carved in the lowest portions. The ornate pillars and staircase are a step forward from the previous ones.