New Delhi, September 14:
Union Minister of State Science & Technology Jitendra Singh said that the post-Covid future economy will be heavily dependent on Technology.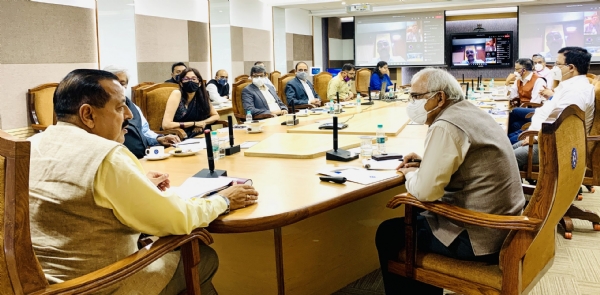 While addressing a meeting of the representatives of prominent industry houses of India who are also the Council for Scientific and Industrial Research (CSIR) society members, the Science and Technology minister said the public-private model is no more an option but a necessity today.
The meeting was attended by Prof. K Vijay Raghavan, Principal Scientific Adviser, Government of India, Shekhar C Mande, Secretary, DSIR and Director General, CSIR, Nalin Singhal, CMD, BHEL, Manoj Jain, CMD, GAIL, Gurdeep Singh, CMD, NTPC, Baba Kalyani, CMD, Bharat Forge Ltd, Nivruti Rai, Country Head, Intel India Limited and other senior officials from CSIR from across India.
Jitendra Singh said that CSIR must explore to incentivize, support 75 best Start-Ups, particularly in areas of Green Hydrogen, Coal to Methanol technology, Smart Mobility, Telemedicine, Digital Health and Artificial Intelligence (AI) to coincide with the 'Azadi ka Amrit Mahotsav' being celebrated from 15th August this year.
Also Read | Nation beams with pride! India administers 75 cr COVID vaccines
Jitendra Singh added that the world has seen how PM Modi has championed the cause of Green Technology to fight the challenges regarding Climate Crisis. He said, even in his Independence Day address, Modi said that Science and Technology will be playing the main role in the next 25 years when India will turn 100. He said that the main aim of all technological innovations is to be able to bring "Ease of Living" for the common man.
He said, even the roadmap for the next 25 years is going to be determined by scientific and technological innovations within all walks of life.