London, Sept 15: The Chinese ambassador to Britain has been banned from attending an event in the British parliament after Beijing imposed sanctions on lawmakers who highlighted human rights abuses in Xinjiang. The decision to bar the diplomat, Zheng Zeguang, was issued by the speakers of the House of Commons and the House of Lords.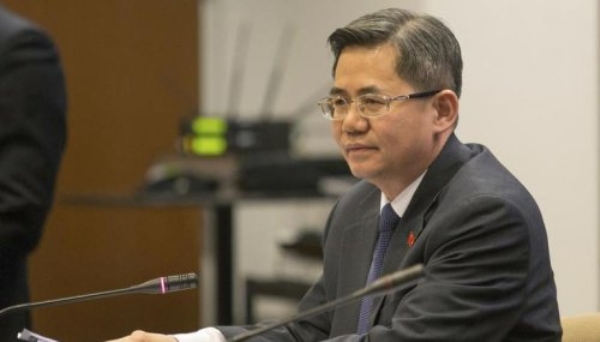 This development comes after China placed the sanctions on nine British politicians, lawyers and an academic in March for spreading what it said were "lies and disinformation" over the treatment of Uyghur Muslims in the country's far west.
"It would have been an insult to Parliament and to the principle of free speech upon which democracies are founded if the official representative of a regime which had just banned Parliamentarians from entering Chinese territory because they had stood up in the House of Commons to call out China's appalling human rights abuses was allowed to set foot in the Mother of Parliaments which cherishes those freedoms," the British lawmakers Iain Duncan Smith, Nus Ghani and Tim Loughton -- Conservative members of Parliament welcomed this move.
The Chinese Embassy in London condemned what it called the despicable and cowardly action of certain individuals of the UK Parliament. "The despicable and cowardly action of certain individuals of the UK Parliament to obstruct normal exchanges and cooperation between China and the UK for personal political gains is against the wishes and harmful to the interests of the peoples of both countries," a Chinese statement said.
Also Read: China, Pak observes as Indian Army shows off its firepower, air stunts at Zapad 2021
According to the reports, UK was not banning the Chinese ambassador permanently, but only while the sanctions remained in place. The targeted individuals and their immediate family members are prohibited from entering Chinese territory and Chinese citizens and institutions are prohibited from doing business with them. China took the action after Britain, the United States, the European Union and Canada imposed parallel sanctions on senior Chinese officials accused of the mass internment of Uighurs in Xinjiang.
London and Beijing have been trading angry words over a range of issues, including China's reforms in former British colony Hong Kong and China's trade policy. Activists and U.N. rights experts say at least a million Muslims have been detained in camps in Xinjiang. The activists and some Western politicians accuse China of using torture, forced labour and sterilisations. China has repeatedly denied all accusations of abuse and says its camps offer vocational training and are needed to fight extremism.