Anantnag, Sept 15: BJP members in Kashmir observed 'Balidan Divas' as a tribute to the Kashmiri Pandits who were killed during the terrorist attack.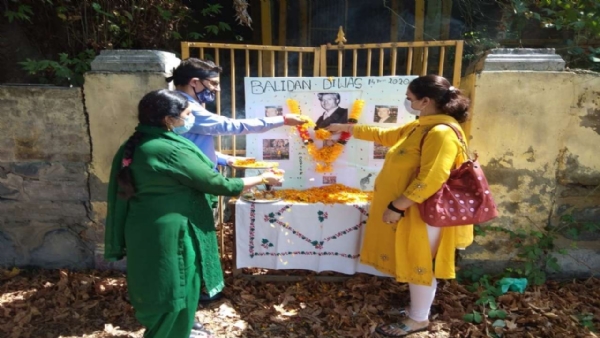 The memorial was organized by the BJP unit in Anantnag. People also gathered at Srinagar's Sheetal Nath shrine to pay floral respect to martyrs. People from other groups, as well as security services, paid tribute to the Kashmiri Pandits. This tradition was recently started by the BJP as they hope Kashmiri Pandits from around the world could return to Kashmir and live in harmony.
Speaking on the occasion, BJP leader Vijay Raina said, "We pay respect to all the martyrs today for their sacrifise.'' he further added that Kashmiri pandits want to rerun back to Kashmir and "we request all the Kashmiri Pandits who across the globe to come back to Kashmir as it will send a message of peace across the world."
Also Read: Kashmiri Pandit's through Fire and Brimstone – a critique
September 14 is the death anniversary of the first Kashmiri Pandit Tika Lal Taploo who was killed by terrorists on September 13 night at his residence at Habba Kadal in Srinagar. Besides, on January 19, 1990, over five lakh Kashmiri Pandits were forced to leave the Valley overnight following a genocidal campaign that was unleashed on them by the terrorists.
Also Read: L-G Sinha launches portal to redress Kashmiri Pandits property grievances
A Bhumi Pujan of a Shaheedi Sthal for Kashmiri Pandits was also held at Phalian Mandal in Jammu. Mata Bhaderkali Asthapan Trust today held bhumi pujan of first-ever Shaheedi Sthal in memory of those who were killed during the exodus of Kashmiri Pandits in the 1990s till date by militants.