In a news to spur on, the Ministry of Home Affairs has suspended the FCRA account of Harvest India, the organisation led by Bishop Suresh Kumar who is known for spewing venom on India's Prime Minister and Hindus on international platforms. This is after the Legal Rights Protection Forum (LRPF) lodged legal complaint on September 16 this year.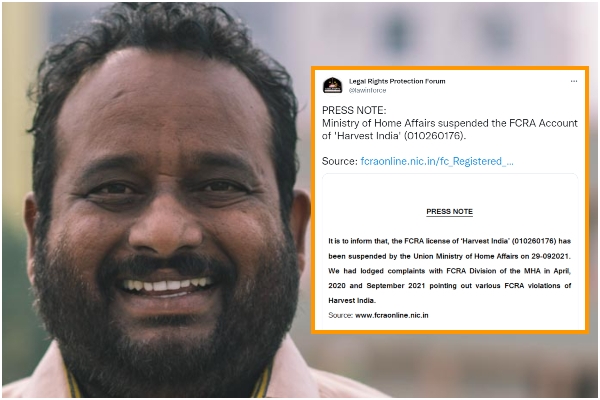 "It is to inform that, the FCRA license of 'Harvest India' (010260176) has been suspended by the Union Ministry of Home Affairs on 29-09-2021. We had lodged complaints with FCRA Division of the MHA in April, 2020 and September 2021 pointing out various FCRA violations of Harvest India", the LRPF tweeted.
Kumar had made personal attacks on the Prime Minister on international platforms. While speaking at Mission Conference 2018 held at Biola University, USA in the year 2018, Suresh Kumar had made following derogatory statements, "Right now, we are under Hindu rule. Our Prime Minister, he is a bad guy. He doesn't want any Christians in India. He wants to make India as only Hindu country. So many pastors killed in last 5 years. Many missionaries, they send them out. There is unrest, turmoil. Pastors are killing, Churches are burning. The government is not doing anything. Brutal mentality, we are struggling. We do not know what is going happen tomorrow to Christianity in India, to Church in India but I am believing powerful god on our side. Next year we have election, please pray. I don't want this party to come back. This guy is doing so much bad for Christianity".
Kumar has also earlier converted innocent Dalits and tried to caused dangerous demographic imbalance. Also, on July 15 last year, the SC Reservation Parirakshana Samiti is said to have made a formal complaint with Guntur District Joint Collector against Kathera Heny Christina and Kathera Suresh Kumar along with evidences stating that the said persons are concerned to Christianity but still enjoying the reservation benefits which are meant for the people of Scheduled Castes.
.
.