Washington, September 03: With an aim to deepen the US-India partnership amid ongoing geopolitical changes, India's Foreign Secretary Harsh V Sharingla met American counterpart Deputy Secy of State Wendy Sherman. Both the leaders shared their views on the ongoing situation in Afghanistan.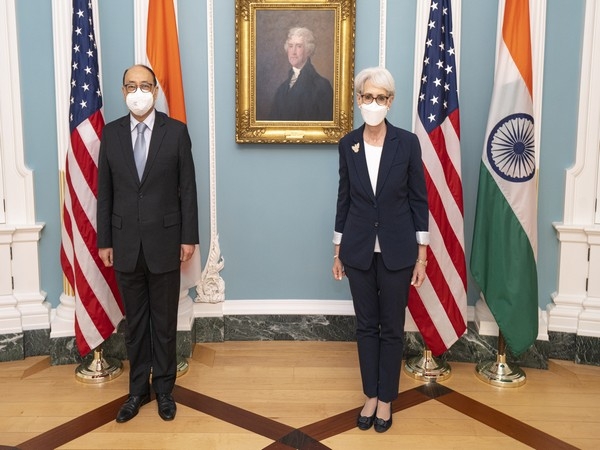 According to the US State Department, both the leaders discussed a broad range of shared priorities including continued coordination on Afghanistan. They also hold substantive discussions on advancing India-US Strategic Partnership across sectors including defense, trade & investment, and climate change.
During the meeting, they also considered the possibility of enhancing collaboration in areas of counterterrorism, HADR, and maritime security.
Moreover, Deputy Secretary Sherman and Foreign Secretary Shringla agreed to remain closely coordinated on shared goals and priorities to deepen the US-India partnership. They also agreed to strengthen Indo-Pacific cooperation via the Quad.
Earlier to that, Foreign Secretary Shringla also met United state secretary State Antony Blinken and discussed bilateral ties and the situation in Afghanistan. India's Ambassador to the US Taranjit Singh Sandhu also attended the meetings along with Shringla at the Foggy Bottom headquarters of the State Department.
India-US 2+2 Meet
Apart from that meeting India and the US also held a bilateral 2+2 Inter-sessional meeting at the official level on 1 September 2021 in Washington DC and reviewed the progress made since the last 2+2 Ministerial Dialogue in October 2020.
During the met, both sides also exchanged assessments on developments in South Asia, the Indo Pacific region, and the western Indian Ocean.
"The two sides took stock of the progress and developments in the bilateral agenda under the India-US strategic partnership, including defense, global public health, economic and commercial cooperation, science and technology, clean energy and climate finance, and people to people ties," a press release from the Ministry of External Affairs (MEA) informed.
.
.