Strongly condemning the arrest of Andhra Pradesh BJP President Somu Veerraju ahead of the Ganesh Festival 2021, Sunil Deodhar, National Secretary, BJP raised serious concerns about the state government saying that the YS Jagan Mohan Reddy government is busy suppressing the Hindu voices.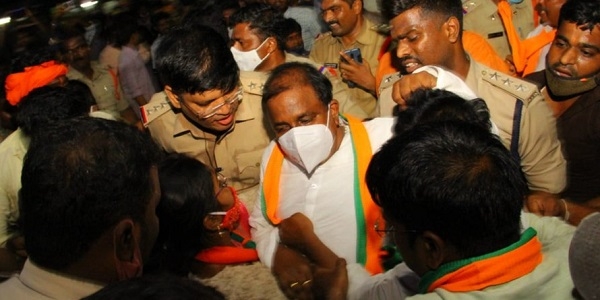 This is after Andhra Pradesh BJP chief Somu Veeraju, and state general secretary Vishnu Vardhan Reddy Satya Kumar were detained by the police along with other party leaders while they were protesting the state government's curbs on public celebrations of the Ganesh Chaturthi festival.
The BJP leaders staged a protest against the state government's decision at the Kurnool Collectorate and were detained by the police. The police blocked the movement of BJP demonstrators, resulting in a scuffle between them. Meanwhile, the ruling Yuvajana Sramika Rythu Congress Party (YSRCP) said the restrictions were imposed according to the Centre's guidelines.
"Andhra Pradesh is in an unfortunate state that YS Jagan Mohan Reddy governmnet first hits at Hindus' Sentiments & then shuts voices raised against it. We will celebrate Ganesh Chaturthi in large scale with protocols and dare you stop it!", said Deodhar who also is the Co-Incharge-Andhra Pradesh.
Impending the third wave of COVID-19, the Andhra state governmnet has decided to to restrict mass gatherings during the Ganesh festival. The decisions were taken at Thursday's review meeting on COVID-19 at CM's Tadepalli camp office. The chief minister also has cautioned officials to take appropriate steps without hurting the sentiments of the devotees.
.
.