The Taliban Terror in the state of Afghanistan has begun! After completely calling off the women welfare ministry and barring their education, the Taliban on Thursday has taken over the Norwegian embassy and promised to return after burning all the books and basing the wine bottles.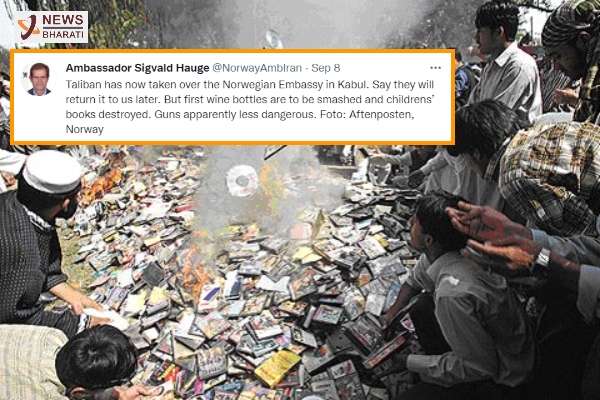 The news was confirmed by the Norwegian ambassador to Iran Sigvald Hauge. "Taliban has now taken over the Norwegian Embassy in Kabul. Say they will return it to us later. But first wine bottles are to be smashed and childrens' books destroyed. Guns apparently less dangerous," tweeted ambassador Sigvald Hauge sharing a photo of a group of Taliban radicals posing with their guns.
Norway had reportedly vacated its diplomatic post in Kabul with the assistance of Denmark shortly after the Taliban had taken control of the city. As the Taliban continues to proclaim they value 'human rights' on various global forums, the dark reality of the war-torn country speaks for itself.
The Taliban had earlier detained the women who got out on the streets to protest against Pakistan's interference in the country. The women there immediately after the launch of new Taliban governmnet went out on the Kabul streets demanding Death to Pakistan and Freedom from Taliban.
.
.